Berlin-based mobile production and SNG provider Betamobil has brought its new six-camera HD6 OB vehicle into service, with audio based around Riedel's RockNet 100 digital audio network with MediorNet and a Soundcraft Vi1 mixing console. The set-up supports audio signal distribution without the need for a dedicated audio router.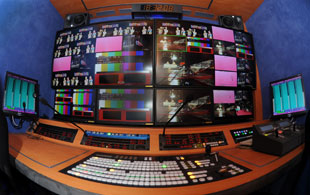 'We believe that the future of mobile productions lies within flexible setup scenarios that can be adapted to the needed application,' says Betamobil CEO, Thomas Busch. 'Riedel's real-time networks, such as MediorNet and Artist, enable us to realise incredibly flexible set-ups that can be quickly reconfigured.'
The comprehensive audio system combines Riedel's Artist digital matrix intercom and the company's fibre-based MediorNet media network, allowing the HD6 truck to be linked with other vans in the Betamobil fleet to form larger systems as an event or application demands.
The Artist system in HD6 consists of an Artist 64 mainframe, which serves as the foundation for a total of 12 Artist 1000 series control panels. Because the modular Artist system can be expanded to 1024 x 1024 non-blocking ports, Betamobil is assured long-term investment security. Seamless integration with other OB trucks or broadcast production facilities is enabled via a simple fibre link.
For the truck's video distribution and signal processing , Betamobil uses two MediorNet modular mainframes equipped with Riedel's MN-HDP-6 video cards. The MN-HDP-6 cards offer two inputs and outputs, as well as two freely assignable connections with up-, down-, and cross-conversion on all inputs and outputs. They also allow for quad-split applications and support further signal processing such as audio embedding/de-embedding and frame synchronisation. In addition, Betamobil uses two MediorNet Compact Pro mainframes as stagebox systems for remote applications. All signal processing and conversion options are available across all MediorNet mainframes.
'With this truck we have a very efficient just-enough concept, without sacrificing production quality at all,' Busch explains. 'It's a very efficient set-up based on the MediorNet network approach. This allows us to adjust quickly to the needs of a specific production.
'With this approach, we don't have to always carry the expensive overhead for the few productions where we use 100 per cent of a big truck's capacity. If we need more cameras, editing or audio resources, we just add it to the MediorNet network by adding another small truck or external gear. This flexibility allows us to cover more productions and to be more competitive.'
The Betamobil HD6 has already seen use at productions including the Berlin Fashion Week.
More: www.riedel.net
More: www.soundcraft.com