The regular Sunday set-up and break-down of audio equipment for the itinerant Shore Community Church has been characterised by an ageing, large and heavy audio system. Realising that new alternatives promised better sound from smaller, lighter equipment, the church asked local installer Halogen Audio to find a system that met met its high audio expectations with improved portability and ease of set-up.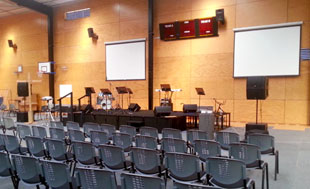 Together, they tried various options, and settled on a QSC KLA active line array system.
The church required an audio system that was suited to both speech and a praise band. It needed to provide high-quality, even sound coverage across the large space (the Albany Junior High School sports hall), and the provision to grow with the congregation into a larger venue.
Comprising four KLA12 elements and two KW181 subwoofers, the new system is very versatile in terms of mounting options, so it can easily be used as part of an installed system when the church moves into a permanent venue. The QSC system also won out on the ease with which it can be set up and packed away.
Happy with the KLA system, the church quickly returned to Halogen Audio for a full QSC K Series monitor system, comprising four K12 Active Loudspeakers and a K8 dedicated to monitoring a drum kit. The 1kW amplification and six-year warranty on the K Series, in particular, helped to swing the deal.
'The level of support we received from Halogen Audio, coupled with the high quality and suitability of the QSC equipment for our application, meant we were very comfortable placing an order for the equipment,' reports Shore Community Church leader, Dave Simpson.
More: http://www.qsc.com