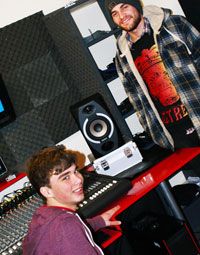 Established to support young people with mentoring and coaching, Red Dreams serves UK bands, singers, songwriters, actors, musicians, artists, writers, filmmakers, and film and sound editors. Currently, more than 25 mentors donate time, skills and knowledge to the charity, which was set up by Ian McManus and wife Dawn in memory of their son Kyle, who died aged 16 from a brain haemorrhage.
With the completion of the Red Dreams Unit in 2009 – offering use of rehearsal rooms, and recording and editing facilities – each person who enters The Unit has a wealth of opportunities to show their talent at festivals, on local stages, local and regional radio, and national television.
Supporting its efforts, both Red Dreams Unit studio spaces have been kitted out with Reveal 601P studio monitors, donated by Tannoy. 'We are honoured to have the support of a company like Tannoy,' says Ian McManus. 'With professional kit like the Reveal studio monitors, our students get a richer experience from The Unit, getting to hear their mixes in crystal clear audio. Our aim is to delight and inspire, and with the help of our partners and volunteers, we can make a real difference to the young people at Red Dreams.'
Red Dreams operates a basic ethos of 'Confidence Through Creativity' underpinned by values, including dedication, respect, focus, determination and support. Red Dreams not only looks to support young people in their creative endeavours, but also offers to mentor them individually, allowing them to grow in self-esteem, self-confidence and self-belief.
'We are delighted to support the Red Dreams charity in their excellent work with young people in the UK,' says Mark Flanagan, TC Group Marketing Manager for Tour & Install. 'To nurture talent in such a way is invaluable, and the facilities here are a real testament to Dawn and Ian's determination to provide these free services in memory of their son.'
The original Tannoy Reveal close-field monitor first appeared in the mid-nineties, and has been used by thousands of amateur and professional recording, creative composition and postproduction facilities worldwide.
More: www.tannoy.com
More: http://reddreams.org.uk