Aiming to make itself more attractive to high-level clients, Beirut's 360 Media has recently invested in a Solid State Logic AWS 948 Hybrid Console/Controller. Installed in Studio A at the full-service, multi-room music, mastering and film facility, the new console is intended to appeal to audio for film and video projects.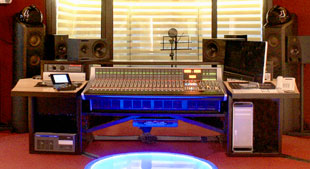 'We wanted to launch a studio where the client can come in and have access to equipment at the same level as studios in Europe and the US,' says co-owner/producer Jad Abouzeid. 'With the growing film industry in the Middle East, it was essential to have equipment that could deliver the quality necessary for the international market. In choosing a console, the AWS 948 was the only option as it gives us the sound quality, flexibility and name recognition necessary to help increase our business options. As a lot of the local film projects are being shown at events like the Cannes International Film Festival, we wanted to be the first with the most in our region and the AWS has really put us on the map with our new set-up.'
The 360 Media facility occupies two floors of a media centre in central Beirut. The 11th floor holds Studio A, Studio C, a mastering studio, song writing space and a film editing room. The 12th floor holds Studio B, which offers a recording space large enough for a 40-piece orchestra.
SSL's XLogic Alpha-Link I/O links the AWS to the studio's Pro Tools, Pyramix, Cubase and Nuendo DAW systems, while outboard gear is routed through SSL X-Patch units. Studios B and C offer XLogic Alpha Channel mic pres and Alpha VHD four-channel mic pre units. Everything at 360 Media is designed for speed and consistency.
'Our production cycle for music goes very fast,' explain Abouzeid and business partner and mastering engineer, Tony Haddad. 'We do the recording and need to produce the final mix immediately and then send it to mastering. We are typically under a lot of pressure from the artist to release songs straight away, so there is little time to play with a mix. With the AWS, we start each session with great sounding audio, so creating a viable track is straightforward. In the past, local musical acts would go to Europe or the US to record and mix, with the AWS they can now stay at home.'
360 Media is currently being certified by Dolby for 7.1 surround production in Studio A, with 5.1 capabilities in Studio B. 'As we are following market demand, the AWS 948 is the perfect console to meet our current production needs for 5.1 surround mixing,' Abouzeid says. 'The AWS 948 definitely helps us to expand the horizons of our business.'
More: www.solidstatelogic.com