The Shanghai Latin American Food Festival pulled more than 500 food fans to Huai Hai Road's elEFANTE Restaurant for 'music, food and fanfare' – and some audio give-aways from Sennheiser.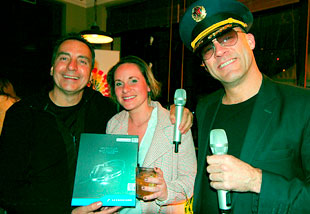 The day's festivities adopted a travel theme, where 'elEFANTE Airlines' took guests on a gastronomic trip through Latin America, covering the cuisine of Argentina, Brazil, Columbia, Cuba, Ecuador, Mexico, Peru, Uruguay and Venezuela – a total of 30 dishes prepared by nine chefs from nine participating Latin American countries.
Staff wore airline uniforms to welcome guests, and 'immigration' checks allowed guests to have their passports stamped before admittance.
As the audio sponsor for the event, Sennheiser set up the systems for the day's musical endeavors – a booth for DJ Amar and an outdoor stage where Kalibre Beat and Huayra served up Latin American rhythms. Sennheiser provided all equipment as well as having an audio team onsite for technical support.
Sennheiser also sponsored a total of 13 draw prizes, including consumer and professional headphones.
'Latin American Music has taken the world by storm and its amazing riffs, jams, rhythm and soul speak volumes about the Latin culture, not to mention the extraordinary food and we were very lucky to be a part of that for one night,' says Marc Vincent, President of Sennheiser Greater China.
'The sound was great,' said members of Kalibre Beat. 'I guess it has to be the best sound we've ever tried. It's great for us to play and work with such a professional company and we really enjoyed tonight.'
Sennheiser handles the sound in elEFANTE, for all the events we do here, says elEFANTE owner and chef, Willy Moreno. 'Sennheiser is our sound partner and we are so happy to bring this Latin party to everyone.'
More:
www.sennheiser.com