A recent sound system update at the Hippodrome Casino in London's Leicester Square has left it with than 200 Community loudspeakers.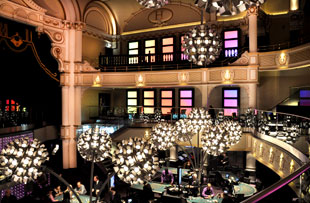 The former Hippodrome Theatre and adjacent buildings have been transformed into The Hippodrome Casino by father–and-son team Jimmy and Simon Thomas, who have invested more than £40m creating a high-end casino that blends its own theatre history with contemporary furnishing.
The complex comprises three floors of gaming, with the main floor based in the original 60-foot theatre atrium. Further facilities include a 180-seat cabaret theatre, restaurant, four private dining rooms, five bars and a number of lounges and events spaces. With around 40 networked zones, specialist audiovisual systems integrator Willow SoundVision carefully selected every audio product to be the best solution for the building and the multi-purpose way it is used.
The result involves 146 Community Distributed Design D4 ceiling loudspeakers, 22 DS5 surface-mount loudspeakers and seven Community D10 ceiling subs providing the main music and public address system for the gaming areas, restaurant, bars and event spaces. They were chosen for their audio quality and high intelligibility above ambient noise levels. Well controlled dispersion was also a critical factor in avoiding spill, as many zones are open to adjacent areas.
Fourteen Community Veris 6T loudspeakers, six Veris 26T loudspeakers and six Veris 210S subwoofers were used for their powerful, high-quality music capability in the lower ceiling height multi-purpose lounges. Symetrix SymNet provides the system networking and Media Technology Systems
PAG amplifiers power the Community loudspeakers. Custom control software by Willow SoundVision allows complete system control via mobile phone or iPad.