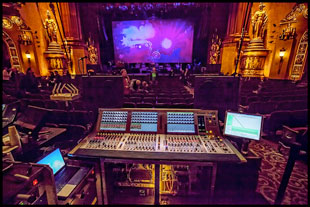 Returning to its annual residency at the Beacon Theatre in New York City, The Allman Brothers Band will maintain the tradition it began in1989 with an 11-show run. Owing to the band's extensive music back catalogue, improvisational skills and frequent guest performers, no two Beacon Theatre concerts are the same.
This year's shows have included guest appearances by the Blind Boys of Alabama, Joan Osborne, John Popper, and Luther and Cody Dickinson.
With Clair Global providing the mixing consoles for front of house and monitor, FOH engineer Bruce 'Slim' Judd and monitor engineer Earl McCoy both find themselves using Vista 5 SR desks. For the main PA system, the band are using the Beacon Theatre's in-house PA system, which features JBL powered VerTec line arrays.
This year marks the first time Studer Vista 5 SR digital consoles have been used for the band's Beacon Theatre residency, chosen for their versatility, ease of use and sound quality: 'I really like working with the Vista 5 SR,' Judd reflercts. 'In my opinion, it's the best sounding digital console out there.'
More: www.clairglobal.com