Although architecturally impressive, the high ceilings, marble, concrete and glass of the Sacred Heart Church in Bellevue, Washington, provide an extremely difficult environment for amplified sound. Lacking essential intelligibility, the sound system in the modern 750-capacity sancutaryhad been living on borrowed time.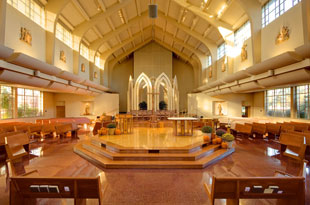 'The room sounded muffled and speech was indistinct, so the priest always felt like he wasn't loud enough,' syas Morgan Sound A/V consultant, Stephen Weeks. His solution lay in a system based on Tannoy loudspeakers and Lab.gruppen amplifiers.
'Instead of a traditional altar at the front of the church with seats facing it – the altar platform is extended, so the seating surrounds it by 270°. There are also some areas with low ceilings surrounding the platform that account for 50 per centof the seating capacity.
'Tannoy's dual concentric technology is very helpful for keeping things coherent,' he explains. 'The speakers are very clear, very clean and very warm in the low end and there were no smear issues like you might experience with a more traditional box, which was critical.'
With no way to cover the entire room effectively and discreetly from a single location, Weeks and company founder Charlie Morgan chose a Tannoy VX 15Q for the main seating area and flanked it with five time-delayed VX 5.2s per side. These were directed out and down towards each section with the low ceilings to localise the sound to the stage. Additionally, five Tannoy IS 52s were built into the stairs of each facet of the octagonal platform for front fill. Two Tannoy VX 6s and a pair of DVS 4s provide a feed from the priest's podium/headset microphones for Sacred Heart's choir (which performs from behind the octagonal platform) and for the church's organist, respectively.
Weeks also specified Lab.gruppen amplifiers – a pair of channels mono-bridged from a C 16:4 for the central VX speaker, two Lab C 20:8 amplifiers for the VX 5.2s and IS 52s and a pre-existing third party amp to drive the stage monitors. 'The amps took up very little rack space, but provided the channel count we needed,' he explains.
Ensuring the spoken word could be heard clearly was an essential consideraion. Additionally, a musical programme that encompasses both traditional and modern styles (performed by either Sacred Heart's choir, individual cantors, or small instrumental ensembles) benefits from the system's full-range capability.
'The result is like night and day,' Weeks reports. 'Since the install of the Tannoy loudspeakers and Lab.gruppen amplifiers, we've had nothing but high praise for the entire system and the sound overall.'
Morgan Sound is a provider of audio, visual, and lighting systems that specifies, designs and installs audiovisual systems for houses of worship, educational facilities, municipalities, businesses and entertainment venues in the US and internationally.
More: www.tannoy.com
More: www.labgruppen.com
More: www.morgansound.com