With the 2010 Mercury Music Prize in the bag for their debut album, British indie band The xx recently undertook a US tour – with live sound engineer Rik Dowding looking for an alternative to the mics the band had been using.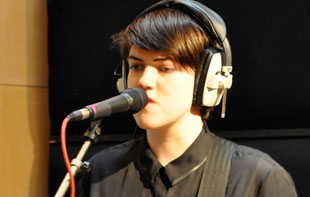 'One of the most important things about working with this band is the translation of intimate, late-night vocals of the albums to a live situation,' he says. 'Higher mic gains introduce unwanted stage noise, especially in smaller venues. In order to get that "in your face", yet delicate sound, I needed a mic that had great feedback rejection. In truth, I'd been looking to improve our microphone choice for some time.'
Dowding held a microphone shoot-out. Monitor engineer Craig Donaldson, recommended including DPA's d:facto vocal microphone…
'DPA has a reputation for audio quality so we were interested to see what this new vocal microphone was capable of,' Dowding says. DPA's UK distributor, Sound Network, was happy to supply a demo unit, and the battle began.
'It was immediately obvious that the d:facto was the best microphone on show, especially for Romy [Madley-Croft], who has a very warm, breathy and distinctive voice with some sibilance,' Dowding says. 'To deal with that we needed a microphone that could deliver exceptional audio clarity, yet not display the usual rock 'n' roll coloured sound associated with proximity effect and artificial high mid boosting. The d:facto was perfect – in fact Romy heard the difference immediately, noting how much clearer her voice sounded when she heard it through her in-ear monitors. It was also noticeable to me how good the mic's feedback rejection was.'
The DPA d:facto Vocal Microphone was tested more thoroughly at a pre-US tour gig at London's Brixton Academy, and again performed flawlessly: 'At that point, we decided to use it for Oliver [Sim]'s vocals as well because we were so pleased with the sound we were getting,' Dowding says.
The xx toured the US with d:facto vocal mics and are using them on the next leg of the tour in Australia. They also used them for a gig at Abbey Road Studios where they were recorded for a live session on Absolute Radio.
'There is no doubt that the d:facto Vocal Microphone does take a while to get used to because it doesn't colour the sound and has a flat response,' Dowding adds. 'But once you realise how good it is in dealing with proximity effect, and how much clarity it delivers, you quickly become a convert. Add to that the ability to use it with most wireless systems without compromise and you have a very powerful package.'
More: www.dpamicrophones.com