Two blocks from The White House in Washington DC, the Warner Theater has served both as a performance venue and cinema, and has a history rich in both worlds. Tracing its origins to 1923, its name comes from Harry Warner, one half of Hollywood's famed Warner Brothers. Having staged Vaudeville and screened movies, its 1992 restoration has made it a preeminent DC Metro showcase and home to the annual BET Awards.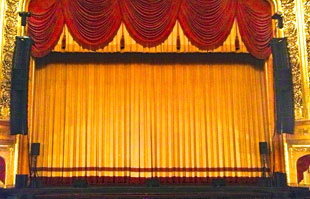 As a live performance venue, it has recently updated its sound system, installing an Outline Butterfly system to support an expanded entertainment calendar.
'The sonic performance is stellar, and the narrow profile of the arrays minimises impact on both lines of sight and frontal lighting needed for theatrical purposes,' says house sound engineer, Ishai Ratz. 'The Butterfly delivers all the performance we need and then some – but it does not overpower the theatre visually. That was an important consideration when it came to choosing the right PA for this venue.'
Left/right hangs of 14 Butterfly elements, along with two CDL1815 cardioid subwoofers make up the main front of house system. This is complemented by eight arc-delayed Outline LAB15SP self-powered subwoofers beneath the stage, delivering uniform and coherent lows. Six Outline self-powered steerable Mini-Compass speaker systems, with their unique variable horizontal control, provide the front and stage lip fill.
'At the onset of celebrating our 40th Anniversary in 2013, I am pleased to have such an important and respected institution as the Warner Theater join the Outline family,' says Tom Bensen, Sr VP and MD of Outline North America, who was on hand to commission the system. 'As a venue managed by industry leader Live Nation, the quality and caliber of performers that will come through this acclaimed theater will provide the ideal, mutually advantageous platform whereby the artist, the venue, and Outline will each benefit greatly from the experience.'
The installation builds on a legacy that has seen the theatre's stage graced by performers from Frank Sinatra and Tony Bennett to ZZ Top and Paul Simon — who accepted the first ever Gershwin Prize awarded for a popular song beneath its proscenium in 2007.