Korea's largest food ingredients manufacturer, CJ O Shopping, has partnered with the largest Thai entertainment and media group, GMM Grammy to launch a 24-hour Shopping Channel in Thailand. The aim is to broadcastm to 12 households in Southeast Asia through GMM satellite TV.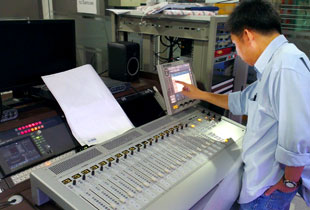 Key to the caneel's audio operation is a fixed-frame Studer OnAir 2500 mixing console was specified in Korea and sold by 101 Technology Co, part of the Mahajak Group.
The choice of console was determined by the project's Korean investors, who were already familiar with the Studer platform. According to 101 Technology Co's Wiboon Lertkultanon, having come to rely on Studer's reliability and sound quality, the choice was straightforward: 'Evidence of Studer reliability can be seen is the Vista 5 that we installed for CH-7 – it has been working 24/7 without failure for the past four years, while the Studer 928 analogue desk which it replaced ran for almost 20 years without problem, ' he says. 'With the OnAir 2500 the price was again competitive and our team is on hand to support it.'
The desk's I/O is configured to support six wireless mics, CD player, hard-disk player and telephone hybrid with some sound FX. 101 Technology Chief EEngineer, Banjongsak Wonggawee, assisted the broadcasters to configure the GPIO to control the many players and LED signs. 101 Technology also handled the operator training.
CJ O Shopping is the fifth television channel of its kind to be launched outside of Sounth Korea – the four others channels serve China, India, Japan and Vietnam.
More: www.studer.ch