Italy's largest studio complex, Art&Music Recording has unpdated its main control room to feature an SSL Duality mixing console and a Dynaudioacoustics main monitoring system.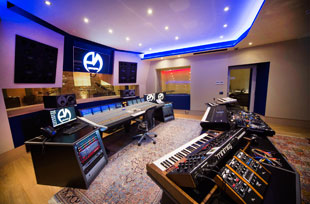 The facility was established in 2002 by Bruno Carlo Oggioni – or Dr Shiver, as he is also known. As well as video, graphics, web and education services, Art&Music Recording (A&M) is also a record label and music publishing house that specialises in dance, house, pop/dance and dop music. Most recently, it has chosen Dynaudioacoustics M4+P monitors for its Console Room A.
'I first worked with Dynaudioacoustics monitors in various Milan studios,' Oggioni recalls. 'Since then I have liked them. When deciding on monitors for the new studio, I travelled to London and listened to a range of top studio monitors. When I heard the M4 system at Sphere Studios it was, like, wow! They have a wonderful bass response even at low volumes which is important when mixing my music.'
Console room A is the main live recording room, and features the 48-channel Duality desk and some carefully-chosen high-end outboard equipment. Its requirement was for a high-quality stereo main monitoring system – leading studio designer and Andy Munro to propose the Dynaudioacoustics M4+P monitor. While the M4 is in use in top line studios around the globe, in this system the + indicates use of high-power drive units and the 'P' signigies a passive crossover between the hi/mid driver and tweeter.
In addition, a pair of custom 18-inch subwoofers were suggested – these can be switched in to augment the bass response of the M4 to help simulate club conditions. Presets in the XTA crossover are used to hold the various settings and these can be switched remotely using a GPI interface.
'This was a major installation, even by M4 standards, with a subwoofer system that really moves a lot of air and yet sounds as clean as the highest-quality mastering speakers,' says Munro Acoustics' main man, Andy Munro. 'We use custom, double neodymium magnets for the mid- and high-frequency drivers, which are more efficient than the standard Dynaudio units. This enables the system to be both clean and loud at the same time. The room is extremely tight at low frequencies so the overall sound is perfectly true. Frankly it wipes the floor with some of the so-called mastering rooms that I have measured in recent years.
'Bruno has very good hearing, and together we tuned the speakers with the digital parametric control unit and the system responds to the slightest adjustment – a sign that everything is at it should be. As well as the reference settings we made a "club mixing alignment" that sounded truly amazing. I haven't done that since we built the Wutang Clan system in New York and that had four 18-inch bass drivers. Press a button and you can mix Brahms piano nocturnes just as well.'
Monitoring set-up:
· Dynaudioacoustics M4+P (2)
· Custom 18-inch subwoofer (2)
· Dynaudioacoustics DCA1400 amplifier (2 x 1.5kW/channel)
· Dynaudioacoustics DCA800 amplifier (2 x 950W/channel)
· XTA DP448 digital crossover with GPI interface fitted
More: www.munro.co.uk
More: www.solidstatelogic.com