A new US non-profit label based in the SF Bay Area has begun a series of sessions at Studio Trilogy.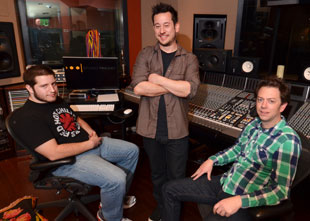 Founded by producer Jason Wall, the Future Youth Records label is the first full-service, non-profit record label dedicated to helping youth 12-17 years old write and release original music: 'A lot of the positions in the recording industry that were once held by top music veterans are now gone,' Wall explains. 'Many new artists need guidance because they pay the costs of recording, manufacturing and promoting their music, only to have to give it away for free or at a big loss.'
By taking the profit out of recorded music, Future Youth Records has created a new business model for youth to learn about professional recording and the realities of today's music industry. The goal of the label is to give kids of all socio-economic backgrounds the opportunity to write and record while at the same time learning about the nature of well-recorded music.
'I want to level the playing field for talented young musicians,' Wall continues. 'We've got some top mentors onboard and these kids might be getting the chance of a lifetime. And to get their start at Studio Triology is a great place to begin – great acoustics, great equipment, and a smart and friendly staff.'
Set in the heart of San Francisco, Studio Trilogy houses three control rooms, four isolation booths. Designed by John Storyk, it houses Northern California's only 80-channel SSL 9000K console with Ultimation, while its tracking suite has a 32-channel API 1608 and the postproduction suite features a Digidesign Icon D-Control.
It also boasts a prize collection of microphones, and a wealth of vintage and modern instruments. Onsite accommodation with media lounge and chef's kitchen is also available.