The British Library's ongoing efforts to digitise its collection of multitrack audio tapes has prompted the acquisition of two further Prism Sound ADA-8XR multichannel audio converters – bringing the total number of these units in its sound facilities to seven. It has also acquired a Prism Sound Orpheus interface.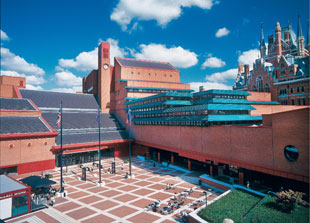 'The multitrack project is a preservation project – we want to preserve the individual tracks,' says Nigel Bewley, the British Library's Operations Manager for Sound & Vision. 'Researchers may want to listen to just one track to hear a bass guitar part, for example, isolated from the mix. Many of the multitracks will have been mixed and made available as published CDs, LPs etc, but some have not, in which case we will need to work out how we are going to do a mixdown – if at all – for access purposes.'
'We have a relatively small collection of 200 multitrack tapes and we think it will take about 20 weeks to complete this project, including the preparation of the resultant files, metadata compilation, he continues. 'We will also be using a third Prism Sound ADA-8XR converter, which we already own, to digitise 24-track tapes and to ingest all tracks simultaneously.'
The investment reflects tha fact that it is more cost effective for the British Library to undertake this project itself, rather than to outsource it. Also, by carrying out the work in-house, the library's curators and content specialists can readily advise on the project.

'We use multiple ingest techniques with other analogue carriers such as tape and cassette,' Bewley explains. 'The Prism Sound units allow us to input four stereo channels or eight mono channels (or any permutation) simultaneously. We use Prism Sound ADA-8XR converters because of their high audio quality. Furthermore they are eight-channel units, so they support our multiple ingest workflows. Another important reason is that the ADA-8XR supports a wide range of sample rates including 32kHz. Once this project is completed, the new units will be used on other projects throughout our sound facilities.'
Multitrack tape is known to degrade over time. In cases where the oxide is shedding they have to be 'baked' to return them to a stable condition so that they can be transferred onto a more secure medium: 'We do bake tapes when required, and some of the multitrack tapes we are currently dealing with may need baking,' Bewley says.
The Sound Archive at the British Library is a resource with enormous national and historical importance. Its history can be traced back to 1905, when it was first suggested that the British Museum should have a collection of audio recordings of poets and statesmen. The Gramophone Company started donating metal masters of audio recordings, among them recordings by Nellie Melba, Adelina Patti, Caruso, Lev Tolstoy, Ernest Shackleton and Herbert Beerbohm Tree.
However, the British Museum was not maintaining a comprehensive archive and this worried Patrick Saul who, in 1955, started the British Institute of Recorded Sound. A public appeal was launched and thousands of shellac discs were donated, which started off the collection.
In 1983, the British Institute of Recorded Sound became part of the British Library, which had split off from the British Museum. Later renamed the British Library Sound Archive, it eventually acquired the metal masters originally collected by the British Museum when these were transferred to the Archive in 1992.
Situated near London's Kings Cross, The British Library operates ten transfer studios and a recording studio, which is designed for speech recording. The audio suites are named after pioneers in audio technology and techniques from across the years and include Emile Berliner (1851-1929), Alan Blumlein (1903-1942), Thomas Edison (1847-1931), Fred Gaisberg (1873-1951), Michael Gerzon (1945-1996), George Gouraud (1841-1912), Arthur Haddy (1906-1989), Martin Hannett (1948-1991), Jean Jenkins (1922-1990), Joe Meek (1929-1967) and Alec Reeves (1902-1971).
All of the transfer studios are equipped with DAWs running Sadie or Wavelab, and most also have Prism Sound ADA-8XR converters. The majority of these are used for archival transfers but the rooms are also designed for more complicated transfer work, combined with restoration and editing, which is carried out by specialist audio engineers. The facilities have been used to train archivists from other organisations in audio archiving methodology and techniques.
'The larger studios have analogue kit to deal with a variety of formats,' Bewley explains. 'We also have an Artefact Collection representing the history of recorded sound. We often raid this collection to deal with obscure formats such as short-lived dictation formats, wire recordings and dictabelts. We also have a custom made cylinder player and we can deal with a wide range of legacy analogue formats, but we do have a wide range of digital kit, too.'
The British Library's recording studio is used for podcasts, oral history interviews and audiobook recording for the its CD publication programme. Alongside its fixed facilities, the library runs a busy location recording programme that takes in theatres, poetry and literary events, soundscape recording, wildlife, sound effect recording, oral history interviews in the interviewee's home, workshops and seminars, music concerts and performances.
'We recently discovered a collection of recordings made by the Swiss psychotherapist and psychiatrist Carl Jung that were made on wire during the 1960s,' Bewley says. 'Obviously it is very exciting when we unearth recordings like that – and it's surprising how often it happens.'
More: www.bl.uk
More: www.prismsound.com