Producers Seminar: Drums with Morgan Ågren took place in Stockholm recently, hosted by Swedish Studio Magazine in conjunction with DPA Microphones and Avid/Pro Tools. Along with Grammy award-winning drummer Morgan Ågren, Opus3 label founder and 'Microphone Doctor' Jan-Eric Persson appeared as a guest speaker.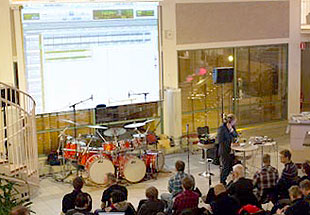 'The aim of this workshop was to show how to record and mix drums and percussion,' Ågren explains. 'There was a strong focus on sound ideals and I used examples from my own Pro Tools sessions, with and without software plug-ins, to demonstrate the points I was making. I also played some CDs that I have mixed and some that I simply find inspiring.'
Ågren used a DPA d:vote 4099 Instrument Microphone on his kit-pig compact drum kit. To demonstrate the importance of transient response, he conducted a test using different mics, some of which performed less well. He also explained the advantages of consistency in the choice of microphones to allow the kit sound to blend together. His personal preference is for DPA microphones, which he likes to use for all of the instruments he is recording.
He also discussed the importance of recording as cleanly as possible, and referred this to his experiences of recording for people who are not sure of the character they want for the final version of a track. He believes that it is important to leave that decision to whoever is going to mix the track.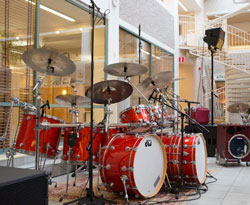 To complete the seminar, Ågren gave a demonstration of drum kit miking using DPA 2011 Twin Diaphragm Cardioid Microphones. Designed to offer a linear off-axis response in a smaller frequency bandwidth, DPA 2011 microphones make stage separation and gain-to-feedback higher and microphone level easier to control.
'I always use DPA microphones because they sound better than any other mic I've tried,' Ågren says. 'They even sound better on the snare, which is rare for a condenser mic. I now own 12 DPA microphones and, during this seminar, I was happy to tell the audience why I like them so much.'
Born in Umeå, Sweden, Ågren first performed live when he was seven. In conjunction with blind keyboardist Mats Öberg, he formed the Mats/Morgan Band in the mid-1990s and began releasing CDs on his own label, Ultimate Audio Entertainment. The band has subsequently toured Europe, Asia and the US. As a drummer, he has played and recorded with internationally acclaimed artists including Frank Zappa, Bill Laswell, Steve Vai, and Mike Keneally.
More: www.dpamicrophones.com