Singapore national broadcaster, MediaCorp TV, has installed a Cedar Cambridge V8 system to clean up and restore TV and film soundtracks in postproduction.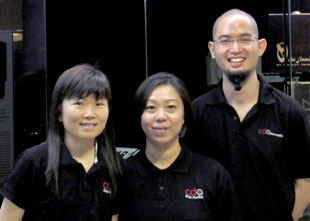 Not limited to archive and vintage material, the system will be used to clean the audio for current productions as they pass from the video editing suites into the broadcast chain. The Cedar Cambridge system allows MediaCorp to process large amounts of material rapidly, using batch processing capabilities, or to fine-tune individual files.
'The workflow within MediaCorp means that the audio department is frequently presented with edited programme material, often with short timescales for cleaning the audio or repairing any damage to the soundtrack,' Cedar Audio MD, Gordon Reid explains. 'This means that it may be necessary to identify specific areas of the audio that require correction very rapidly, and to be able to restore them many times faster than real-time. At the same time, there may be continuous sounds such as background noise that require continuous filtering, although it may be also necessary to remove these problems on a scene-by-scene basis, which complicates matters considerably.
'On other occasions, it may be desirable to use batch processing to clean large amounts of audio. The system has to be able to cope with all of these scenarios, often simultaneously, which is only practical with facilities such as automation and advanced batch processing capabilities. MediaCorp extensively evaluated a wide range of possible solutions, so we are delighted that they chose Cedar Cambridge, which is the only system that provides the combination of restoration processes, audio quality, and productivity tools that they require.'
The system was installed and commissioned by CDA Pro Audio (Asia) at MediaCorp's Caldecott Broadcast Centre in Singapore, with training carried out by Reid, who travelled from the UK specifically.
'Installing a system and training the in-house engineers in a facility such as MediaCorp should never be a one-way flow of information – there's so much that they can teach us about the ways in which they record, mix, and prepare programmes for broadcast and for other distribution channels,' Reid says. 'We listen to what they are telling us, and this helps to ensure that future upgrades and product releases satisfy their needs rather than providing solutions to less precisely defined problems.
'Much of Cedar Cambridge has been developed as a direct response to customer feedback, and I could point to numerous processing modules and other facilities such as the metadata generation and editing, the report generator, and even the batch processor, all of which exist as the direct consequence of our close interaction with our clients and users.'
One of the most recent upgrades in Cedar Cambridge is its ability to present the video contained in up to eight A/V files while processing the audio contained within them.
'This proved to be one of the most important requirements for MediaCorp,' says Rick Dowel, Managing Director of CDA Pro Audio. 'We understand this fully – it is much easier to identify sounds and then correct the audio when you can see the associated video.
'One of the first jobs carried out in Singapore involved the suppression of the sound of a fan being flicked open. In the original recording, this sound drowned out the dialogue but, once corrected using the Retouch 5 module within Cedar Cambridge, the sound sat perfectly in context, and it was impossible to discern that any correction had been necessary or had taken place.'
Connected to MediaCorp's internal network, the Cedar Cambridge system is capable of accessing material throughout the facility, processing it and then placing the restored audio in the correct location for laying back into the final file. This means that it works transparently with the company's existing systems from manufacturers such as Avid and Fairlight.
'MediaCorp has long been a leader in audio postproduction in Asia,' Dowel concludes. 'The acquisition of the Cedar Cambridge system further cements the company's position as a leader in the adoption of advanced technology'.