A further ten Lab.gruppen PLM Series amplifiers have found their way into the inventory of leading German audio production company, Rain Age. The new amps are the latest chapter in the company's 15-year story of full-service production for events ranging from club concerts to large scale arena shows.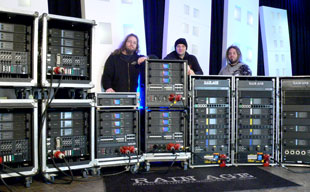 As Head of Audio at Rain Age, Marc Greiss has decades of experience in the live music industry behind him: 'The choice of amplifiers is very important for a good sounding PA System,' he asserts. 'I have known Lab.gruppen a long time and have worked with them throughout my career, so there is nothing to try for me. They are simply extremely reliable and great-sounding pieces of kit. In my entire time in pro audio, I have never had a single failure.'
Greiss is keen to point out the benefits that the platform PLM offers: 'With the PLMs, we have a very good multi-tool in our inventory,' he says. 'You can do nearly everything with them. One day you might have a large monitor set-up on stage, and the next day you can use the same amp rack for a club-PA for example, so it's very flexible.
'With regards to the Lake Processing, I think it's a very smart move to integrate a very good controller with a very good amplifier,' he continyes. 'We also have Lake LM Series devices as System Controllers, so I know Lake Processing very well. For me Lake is the best tool you can have.'
Both the PLM Series and LM Series use their onboard Dante capability to route the audio through a digital network – something that Greiss is eager to take advange of: 'I find that Dante is a great audio network, and it is becoming more and more popular in our business,' he says. 'Up until now, I have only really experimented with it, but in the near future, I think it will be a standard in our systems. The PLM Series amplifiers allow us to accommodate that shift in technology without having to purchase further equipment.'
The purchase of PLM Series amplifiers complements Rain Age's existing stock of Lab.gruppen FP+ amplifiers and Lake LM Series devices.
More: www.labgruppen.com
More: http://lake.labgruppen.com