Two major new TV studio facilities in Texas are going live with Solid State Logic C10 HD broadcast audio consoles in each of four studios.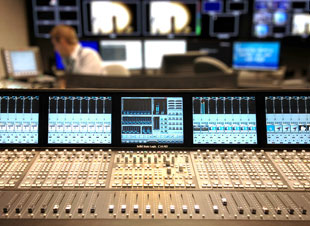 The installations are being handled by TI Broadcast Solutions Group, joining the likes of NBC, Telemundo, Univision, Sinclair Broadcast Group and Hidden Compact Digital Media in the company's portfolio: 'This is the first time we directly specified an SSL console, and the results from the first control room we completed are very satisfying,' says company president, Michael Wright. 'The C10 has performed flawlessly, and that is a must for high-energy broadcast news operations.
'Our design philosophy is based on a rigid set of rules, practices, and checks and balances that take the worry out of the design and implementation of a new facility. When we specify a system, it must work the first time. Our experience with the SSL C10 console certainly supports this philosophy.'
The first station to reach completion was a 10,000-sq-ft facility with a studio and control room, which was built for the second-largest Spanish-language content producer in the world. The second facility, a 150,000-sq-ft space with five studios and three control rooms, will be completed during 2013 and will serve the Dallas/Fort Worth Metroplex area for a major national broadcaster.
'The C10 gave us the ability to get the I/O centralised and in the format that we needed, whether that was SDI or Madi inputs, analogue or digital,' Wright says. 'It also provided all the scalable I/O that our clients needed, the way they needed it. Also, the look and feel of the C10 was just right, from the touchscreens and the large channel displays to the layout of the buttons, down to the size of the lettering. The user interface was superior in the case of the C10.'
The features that won the day for all four placements were SSL's production assistant options – each console sports the Dialogue Automix and Production Automation options, while the single studio additionally features the C-Play option. Dialogue Automix was also on the list: 'These stations deal with fast-paced, panel-based programming, and the Dialogue Automix really streamlines the workflow,' Wright says.
'Even with a lot of open mics, the system tames the process with superior results. From the design power and flexibility of the C10 to working with SSL as a company, the entire experience has been grand. The company has been a great partner in supporting our efforts during both sales and ongoing implementation, and that is very important to the success of both projects.'