Indonesian distributor Sindo Exports has supplied Allen & Heath GLD-80 digital console and KV2 Audio speaker system to Singapore's Wala Wala live music club and Cleopatra karaoke nightclub, and Cleopatra nightclub.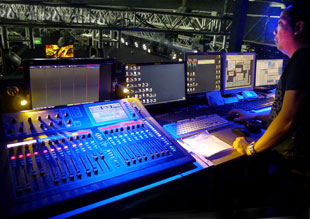 Founded 20 years ago, it wasn't until ten years later that Wala Wala first started hosting live music acts. The move followed the refurbishment of its first floor storage area, creating a relatively small live room. Using its original PA system, the venue struggled to produce a good live sound, however, prompting the club's management to recruit a house audio technician to mix the 11 weekly acts.
'Having decided to recruit an engineer in Mark Jason, we realised that the club needed a sound system,' says Operations Manager, Maniam Krishnan. 'Bands previously mixed themselves, which was a little inconsistent as some would be too loud and others were inexperienced.'
'Wala Wala previously had a small analogue console, but switching to digital made a lot of sense owing to the many, varied performers playing here,' Jason says.
Cleopatra is a karaoke themed nightclub, featuring a nightly light show and live singers. Refurbished by Sindo Exports, its FOH system comprises a QSC Audio loudspeaker system and A&H GLD-80 digital console – which has been extended by adding an AR84 Expander I/O Rack with eight XLR inputs and four XLR outputs, connected via the dSnake Cat5 protocol to the AR2412 I/O Rack on stage.
'I hadn't used a GLD console before but I am very impressed,' says technical engineering manager, Sulaiman Satriadi Simatupang. 'The GLD-80 has an analogue-style channel processing section complemented by an 8-inch touchscreen. Anyone who hasn't operated digital before can easily convert, and there's even a user guide on screen.
'The USB ports allow direct playback of music files and can also take live stereo recordings of some assigned or all of the channels of the console. In addition, the 20 fader strips are well lit and clear to navigate. In fact, the GLD-80 comes with everything – there's no need to start ordering extra hardware or software as everything you need is there.'
More: www.allen-heath.com