The ballroom at London's Novotel Hammersmith has a reputation among many of the sound designers who have encountered it – a bad one. 'Everyone has had a crack at it, and this time it was our turn,' says VME Director, Dion Davie.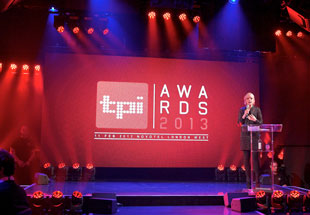 To add to the pressure, the Manchester-based VME had been asked to provide sound reinforcement for the recent 2013 TPi Awards. 'We knew that performing in front of all our industry peers would be challenging…' Davie adds.
VME were among the early adopters of Martin Audio's MLA platform, and turned to an MLA Compact solution for the main arena, rigging six elements either side of the stage and a further four in a central hang. This arced out into the banqueting room, where Lauren Laverne presented this year's awards.
The array was underpinned by four DSX subs, with Martin Audio X12+ boxes were used as out fill from behind the set's LED screens, covering the tables that were off-axis from the arrays. Martin Audio DD6s were used as stage front fill and foldback, due to their compact size and innovative differential dispersion horn. There was also a low-level area at the rear, for which VME also provided reinforcement.
'The trick was to get the two MLA Compact arrays and distributed systems syncing up, seamlessly with each other,' Davie explains. Three Martin Audio DX2 (4-input/8-output) management systems provided all DSP necessary. System tech Mark Edwards used Smaart software to time align the entire system; when the presenter moved from the main stage to the smaller B stage, an alternative snapshot was recalled from the DX2s to reconfigure the system.
'We knew the MLA Compact would cover the main area, and mapped the room on the MLA [Display v2.1] software to achieve the optimisation,' says Davie.
VME's Ben Hyman project managed the event, Steve Brierley mixed the sound and Martin Shaw, assisted by Mark Edwards and Martin Audio's Nigel Meddemmen, were system techs. 'The two main requirements for the system were coverage and clarity – particularly at the back – ensuring that every person, no matter where they were sat, could hear the audio at the right level. And we certainly achieved that,' Hyman says.
'Guests were absolutely gobsmacked by the sound quality for the first time in the history of the event,' Davie adds. 'Judging from the number of calls it was an outstanding success and we feel we have set a benchmark.'
Ben Chadwick, Event Manager at organisers, Mondiale Publishing, agrees: 'We got the sound absolutely right this year. Because of ceiling height variations it's a tricky room to provide even coverage with high intelligibility. But we completely nailed it.'
More: www.martin-audio.com