Optical fibre network specialist Optocore has appointed Sound Network as its new distributor in the UK.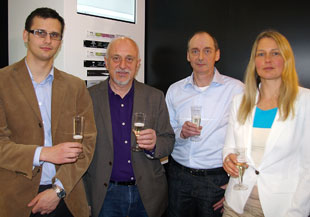 The German company has chosen Sound Network to serve the broadcast, theatre, install and touring markets from its Central London base. 'The Optocore product line dovetails perfectly with our existing product mix, and we look forward to introducing customers to the benefits of this impressive solution," says Sound Network Director, Ralph Dunlop.
'In 2012, we felt we had the necessary resources in place to support a complex system of this type,' he comtinues. 'Serious discussion on developing a distribution partnership kicked off at IBC Amsterdam in August, and we are delighted to have now finalised this agreement.'
Optocore made its debut under the new arrangement on the Sound Network booth at London's BVE Show. 'BVE was the obvious forum to announce our new relationship, and we will be giving all relevant professional users the opportunity to discuss the Optocore products and their requirements for the future,' Dunlop says.
With Peter Holmes as product manager, Sound Network will be working closely with customers and dealers to support existing Optocore deployments, plus developing expanded relationships with system consultants and integrators.
'With our expansion into the area of digital broadcasting, we are very aware of the importance of reliable, elegant, efficient and versatile data transfer in the modern audio world,' Dunlop says. 'We see Optocore as the most pioneering and enthusiastic providers of such products, together with obvious benefits over and above the competition. Consequently, we will not only be able to bring Optocore into existing marketing channels, as we will be addressing many of the same potential end-users, but embark on strategic communication towards other vertical market segments.'
'With our growing penetration of both large-scale events and the permanent installation market, we are delighted to be partnering with such an experienced and well qualified company,' says Optocore Sales & Marketing Director, Tine Helmle.
More: www.soundnetwork.co.uk
More: www.optocore.com