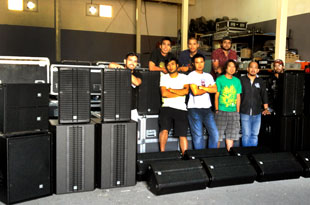 Sharjah-based rental company Evolution Rentals has taken receipt of a new HK Audio loudspeaker systems, comprising 20 CTA208 cabinets, six CT A118 subs, 16 Linear 112XAs and eight Linear Sub 2000A.
The equipment has been supplied by Melody House, HK Audio's regional distributor to support Evolution's provision turnkey production solutions – staging, screens, lighting and sound.
'Evolution Rentals acquired the first ConTour Array system in the Middle East, at the beginning of 2011. Since then, there has been nothing but positive feedback hence the additional investment in the same line from HK Audio,' says Grayson Soares, Operations Manager at Melody House. 'The company has also made a substantial investment in the Linear 5 range, affirming its confidence in the HK Audio brand as a solution that is not only cost effective but a great return on investment.'
The ConTour Array addresses the gap between small PA systems and large touring line array systems. Linear 5 is a range of high-performance loudspeaker cabinets aimed at hire companies.