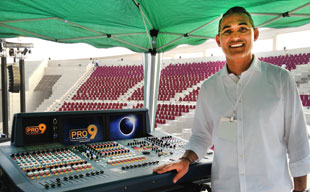 A range of Midas equipment has been adopted by Doha-based Creative Communication Group (CCG). Supplied by local distributor NMK, CCG has invested a Pro9 control surface, two DL431 five-way mic splitters, a DL252 output box and a DN9696 96-channel multitrack recorder.
Recently used in conjunction with a Pro6 system already operated by CCG, the Pro9 provided a redundant and flexible mixing/routing system for an event at the Majida El Roumi concert in Katara, Doha.
'Since 2007, CCG has had Midas consoles in its inventory, starting with the Heritage 3000, Legend 3000 and Verona,' says NMK Business Development Manager, Chicco Hiranandani. 'With this new investment, the company now has a comprehensive Midas Digital Solution that includes the new Pro9, an existing Pro6 and a number of Midas I/O solutions providing the flexibility required for the high-profile shows itcompany produces.'
The Pro9 featuring an 88-channel input count and 35 buses, and uses the VCA and POPulation groups found on the the XL8 and the Pro6 desks. It also borrows from classic Midas analogue consoles, adding onboard effects and dynamics processing from the XL8, including the XL8 compressor styles.
More: www.nmkelectronics.com
More: www.midasconsoles.com