Instantly recognisable, Copenhagen's Bella Sky Comwell hotel has won several accolades, including an International Hotel Award for Best Architecture in Europe for its 'twisted pair' of towers, which are designed to ensure uninterrupted views of of the capital in one direction or the Øresund Bridge in the other.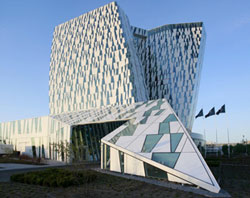 Installation of the audio infrastructure at the hotel was taken care of by audiovisual integrator AV-Huset, using a QSC Q-Sys management platform system supplied by Danish QSC distributor EM Nordic.
'It was my first installation with Q-Sys, and we had to ensure it would integrate with a third-party control system in the conference halls,' Ashley Cooke of EM Nordic explains. 'I was concerned it would take a while, but it was literally a question of sitting down with the installers for 15 minutes, and then Q-Sys was all hooked up. I thought I might get some calls from them asking for support, but everything just worked — the next thing I knew, the hotel was open and winning awards.'
Run from a control room in the hotel basement, the Bella Sky Q-Sys comprises a Core 1000 linked to ten I/O frames located around the building, 21 ISA amplifiers, ten compact two-way QSC AD-S 52 and 82 loudspeakers across the hotel's four bars and two restaurants, together with 144 QSC AD-CI52ST ceiling-mount speakers in the reception and other communal areas. Q-Sys is mainly responsible for background music facilities at Bella Sky, although mic/line inputsare provided in some of the hotel's 28 meeting rooms and three conference halls.
'One of the advantages of Q-Sys is that is doesn't need dedicated custom cabling, so the system runs via the hotel's existing IT infrastructure – which made for huge savings on installation costs, considering that the same audio channels often need to be routed simultaneously to the ground floor in one tower and the 23rd floor in the other,' Cooke says.
'We originally installed a fixed-architecture system running the then-current v2.0 software and firmware, with 24 inputs and 68 outputs. You can imagine the smile on the faces of the installers and the customers when they were informed that future channel expansion would just require the latest firmware update — so they could make use of the new Flex Channels, which can be either inputs or outputs — and not the purchase of a bigger core as they had expected. Partly because of that, plans are now being drawn up to extend the Q-Sys network across the whole of the Bella Center conferencing facility.'