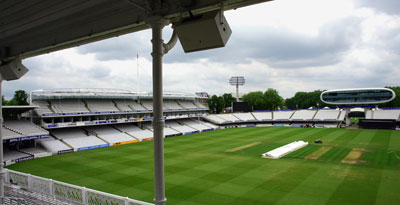 Completing the latest stage of the PA/VA facilities at London's Lord's cricket ground, RG Jones Sound Engineering has installed a fully-integrated. IP-based system.
The newly completed system was developed by an RG Jones project team headed by Roland Hemming, and meets the latest safety standards including EN54. It also meets the much stricter security and environmental regulations that have developed in the 25 years since RG Jones began its longstanding relationship with MCC in the 1980s – matching the London based company's quarter-century relationship with the UK home of tennis at Wimbledon.
Among the 'world firsts' being claimed for the installation, the fully IP-based plug-and-play set-up features the world's largest Dante network and allows users to treat all the equipment as a single system. It is also the first 'out-of-the-box' system to combine life safety compliance with pro audio quality.
The historic sports ground – where the first official game was played in May 1787 – is the best-known cricket ground in the world but has moved with the times. Its futuristic Media Centre saw groundbreaking architecture and technology join the site's other well-loved buildings, and the new phase brings its audio systems to a new level of quality and flexibility. RG Jones's project team's task was to develop an all-in-one solution that would both enhance audio quality, reliability, noise spill control and aesthetics, provide full voice alarm compliance, improve outside broadcast facilities and be flexible enough to work with all cricket match formats from Test Matches to Twenty20 and a broad spectrum of other events.
'Evolving health and safety legislation, environmental requirements and many other factors led Lord's to undertake a complete re-evaluation of the ground's overall audio concept,' says Jon Berry, RG Jones' Sales and Installations Director. 'The challenge for our team was to develop a system that would that would meet those needs while being aesthetically in keeping with the site and consistent with other parties' requirements and its residential setting.
'We've worked with Roland Hemming for several years including the previous Lord's Ground installation, and asked him to head up this Phase Two of the audio improvements, covering the historic Pavilion and the access gates.'
The team worked with a number of manufacturers including Lab.gruppen, Audinate and ASL Safety & Security to create a scalable and modular system that would fulfill the broad range of uses required. Brands specified for the project also include DAS Audio, APart and Sennheiser.
More: www.rgjones.co.uk