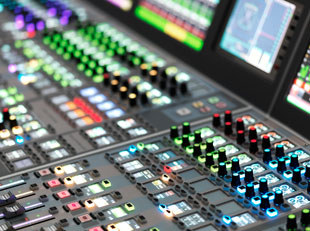 Ukraine system integrator Engineer Service has taken a Calrec Artemis Light console for in its OB operations. Its second Calrec desk, the console will be installed on a new 40-foot mobile OB truck to mix live audio in stereo and Dolby E 5.1 broadcast formats, and for multichannel recording in live production.
'With the Calrec Artemis Light, we can do things we couldn't do before, such as provide more than two channels of 5.1 audio broadcast soundtracks,' says General Director, Dmitriy Prikordonny. 'That capability is very important, particularly for live sports productions. By using extra boxes on the field or stage, we can send and receive many more sound channels. We can serve the entire shooting area, whether that area includes a concert hall, a stage, a field, a broadcast van, or other links. The Artemis Light has improved our workflow while better satisfying our clients' needs.'
Looking for a compact system with full redundancy, extensive I/O and processing, Engineering Service found its solution in the Artemis Light with Bluefin2 signal processing. The company purchased the Artemis Light console with 40 multilayer faders, five Hydra2 I/O boxes, 32 digital AES inputs and 32 digital AES outputs, 72 analogue inputs and 24 analogue outputs, and two Madi interfaces.
The console will serve the new OB truck, which will handle up to 16 cameras for HD video processing. The new truck will hit the road in mid-summer to cover mostly live programming such as sports, concerts, and other outside productions. The Artemis Light joins a Calrec Zeta console in the Engineer Service fleet.
'By upgrading from our older Zeta technology to the Artemis Light, Engineer Service has not only shown its continuing support for Calrec, but also a commitment to move forward on the latest Calrec technology platform,' says Calrec Europe Sales Manager, Michael Reddick. 'These are the types of long-term partnerships we strive for.'
More: www.calrec.com