Rapid Pictures' new 5.1- audio postproduction room has opened in London with a 24-fader Avid D-Command console and custom Genelec DSP loudspeaker system.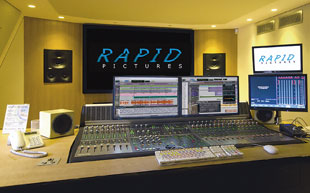 The facility has been providing video and audio postproduction to broadcast, commercial and corporate TV clients for more than 20 years, and currently operates ten offline and two online Avid video suites, and three audio suites. The new audio post suite is built in a previously unused roof space, and required. Due to the suite's unique space, Rapid opted for a bespoke loudspeaker configuration using three Genelec 1238CF loudspeakers, a pair of 8240A close-field monitors and a 7271A subwoofer.
The equipment provision fell to HHB Communications…
'We've been a supplier to Rapid Pictures for over 15 years and have provided much of the equipment that has been recently updated,' says HHB Sales Manager, Andrew Hingley. 'It's great to have been involved in the next stage of their development and work with them on specifying what has become a truly state-of-the-art audio postproduction studio.'
The recently introduced 1238CF is a three way DSP loudspeaker for flush mounting. For Rapid, the 1238CF's design meant the studio's front wall could be designed to maximise room size and acoustic requirements. The Genelec GLM DSP management kit provides comprehensive analysis and set-up of any configuration of the DSP loudspeakers, and as part of the package HHB provided a commissioning service for the loudspeakers. The studio design and installation was provided by Peter Johnston of One-Ten Productions.
'The new 5.1 mixing room is the first stage of a major refurbishment of the facilities,' says Rapid's Facilities Director, Ben Plumb. 'It was built to meet the changing requirements of our TV clients to accommodate for topics such as loudness compliance and surround sound production. HHB has been very helpful at every step of the process, from the specification of the equipment to loudspeaker alignment.'