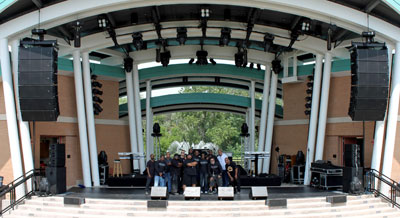 Regarded as the top R&B venue in Chicago, the Country Club Hills Theater has been hosting a summer summer schedule that includes performances by Al Jarreau, Eric Benet, David Sanborn and Smokey Robinson. And the audience and performers alike are upbeat about the sound quality.
The outdoor venue is situated in Country Club Hills, a suburb of Chicago, and called on Sound of Authority for a new reinfocement system for the season. As well as concerts and special events, Sound of Authority offers design/build a service for the installed sound market.
'This is our third season handling sound services for the Country Club Hills Theater,' Sound of Authority President and CEO Ernest Greene explained, 'While our client has been happy with the sound reinforcement services we've provided, I'm always looking to improve upon what we've done previously, and this led to the purchase of a DAS Audio Aero Series 2 system. The Aero 50 offers a higher output level than what we used previously and this made it that much easier to provide consistent coverage throughout the audience areas.'
The company devised a new set-up using DAS Audio's Aero 50 enclosures and LX-218 subwoofers from the Aero Series 2 line, supplemented by Aero-12A modules for side fill. Twelve Aero 50 line array enclosures are flown six per side at a trim height of roughly 14 feet. The two clusters are positioned approximately 40 feet apart, with eight LX-218 subwoofers ground-stacked four per side two-wide. The Aero 50 is a large format, three-way line array module incorporating dual 15-inch LF transducers, four 8-inch loudspeakers for the midrange and two neodymium compression drivers with 1.5-inch exits for the HF. The LX-218 sub incorporates two proprietary 18LX long-excursion transducers in a front-loaded, bass reflex configuration. Both systems are driven by Crest Audio Pro II Series 8002 power amps.
For side fill, the Sound of Authority crew placed four Aero Series Aero-8A self-powered, two-way, line array enclosures close to ear level, two units per side.
The new system will remain in-place at the Country Club Hills Theater util late August 'We took delivery of the new equipment on 1 June and began installation on 3 June,' Greene says. 'In addition to a dramatic improvement in sound quality, I've been impressed with DAS Audio's customer/technical support services. In preparation for our first event on 5 June with R&B vocalist Toni Braxton, DAS Audio's Carlos Henao paid us a visit to ensure the equipment was operating as expected, and helped us optimise the system to the venue. The company's customer service is first-rate.'
More: www.soundofauthority.com
More: www.countryclubhillstheater.org
More: www.dasaudio.com