Creating the score for a Graham Green biopic proved quire a challenge for composer/musician Michael Josephs. Due to air in March 2013, Dangerous Edge: A Life of Graham Greene charts the novelist's life as a a spy, an editor and a traveller: 'Graham Greene was a fascinating person,' Josephs observes. 'He sort of lived his own novel.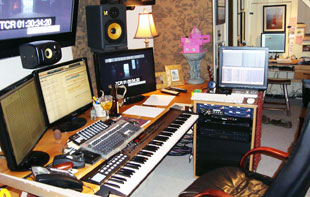 'What really appealed to me is that the filmmakers Tom O'Connor and David Taylor really moved fluidly between fact and fiction, eras and locales, not to mention being unconstrained by a temporal sense. I really loved the challlenge of writing with a sense of fluidity that could really go anywhere at any time, yet still the drama of telling a great story.'
Josephs wrote, tracked and mixed the score in his own studio, which is centred on an Audient ASP510 surround sound controller – the first use of the system for film work. The current set-up
'I put my first studio together when I started to do a Fox show called America's Most Wanted, which I did weekly for a long time,' Josephs recalls. 'Over the years it ballooned to a very cramped space with an enormous board… and finally I'm where I'm at today with digital recording and digital video and no console. I have always dreamed of being able to write and mix music from behind a piano keyboard, not a mixing console, and this is now my very pleasant reality – I am a composer and musician, not an engineer,' he says.
Josephs now does a lot of mixing in surround, which is where the ASP510 comes in…
'It's a really beautiful system,' he says. 'It's laid out perfectly – the remote goes in the studio while all of the connections are on the main unit on DB-25s in the machine room. The remote is attached with a regular ethernet cable. I can listen back and forth between stereo and surround, as well as mono and dim instantly. I can also use and alternate set of mains, which is really helpful.'
'I like having the choice between isolation and cut buttons, so you can instantly hear what is going on in individual speakers,' he adds. 'It even remembers your last setting when you disconnect the power, which is important as I try to power things down every night.
'Also, with DAWs, the all-mute button has really taken on an unfortunately huge significance. Seriously, with a main DAW and four-to-five satellite computers, I can hit the all-mute switch every time something crashes or needs to be restarted, thereby saving my ears from horrible screeching when wordclock is lost, and also saving my dog from needing a valium.'
Michael Josephs has composed and conducted scores and music for more than 200 films and network television programmes, with recent credits including scores for National Geographic, HBO and NBC.
More: http://audient.com