Currently the most successful men's soccer team in the history of the FIFA World Cup, Brazil's Seleção Brasileira national football team saw the unveiling of their new playing strip as an opportunity for a big party – not to mention their five championships, or the fact that Brazil is the only national team to have played in every World Cup.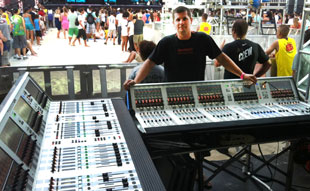 The event was hosted by Nike at Copacabana Beach in Rio de Janeiro, featuring Brazilian singers Seu Jorge and Naldo, and the Escola de Samba Mangueira samba school dancers and musicians – with two Soundcraft Vi6 digital consoles for the sound mixing.
'This wasn't your typical launch party,' says Eder Moura of Gabisom Audio Equipment, one of the country's largest tour sound companies. 'It was held in a large outdoor space with a full stage and lighting. We had plenty of room at front of house, so we used two Vi6 consoles – one for Seu Jorge and one for Naldo and Escola de Samba Mangueira.'
Both singers have distinctive styles. Seu Jorge's music is a mixture of MPB – Música Popular Brasileira or Brazilian popular music – samba, rock, soul and other genres, while Naldo is a Brazilian singer, musician and producer who is deeply into reggaeton and rock. 'Rather than change console settings between acts, even though this is relatively easy on the Vi6, we decided it would be even easier to just swap out consoles for each artist,' Moura explains.
'We mounted the two identical consoles in a 'V' configuration, one directly in front of the stage and the other at 90° to the left. Although having a console on the left of you might seem a little unusual, the Vi6's open, uncluttered layout gave the FOH engineer easy access to all the controls and faders and we knew exactly how the console was set up from previous gigs, so the engineer basically just had to adjust some faders and bring a few effects in and out here and there rather than hover over the board frowning in concentration.
'We were able to easily switch between consoles and it was seamless and effortless,' he adds. 'You can't get a better-sounding digital console and its built-in effects make the Vi6 perfect for live sound use.'
The new team uniforms feature the team's classic yellow and blue colors and reflect Brazilian soccer's storied heritage combined with modern touches, including recycled material.
More: www.soundcraft.com