Italian pop/rock band Elio e Le Storie Tese evolved from the underground Zappa-esque rock demenziale scene of the late 1970s, evolving a blend of genres where cheeky lyrics contrast with complex musical arrangements.Today, Elio e le Storie Tese are widely regarded as being among the best musicians in Italy.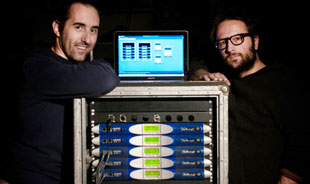 Elio's latest live outing – the Enlarge Your Penis Tour – finds PA technician Claudio Scavazza again working with Elio and audio rental company Sonique (which has provided sound systems for the tour for many years). During this time he has witnessed the evolution of Sonique's VerTec PA system, which was recently beefed up with the Powersoft K Series amplifiers.
'Until recently, the system was powered by 20 amplifiers, housed in six flightcases weighing a total of 616kg (1,358lbs). Now that Sonique has switched over to Powersoft, the whole system can be driven with ten amplifiers – six Powersoft K10 DSP+AESOP and four K3 DSP+AESOP in two cases weighing only 104kg (229lbs).
The system is now more powerful, more defined, more compact and 83 per cent lighter. We are enthusiastic to say the least…
'All of the amplifiers feature the onboard DSP allowing us to process the whole system with Powersoft's Armonia software,' Claudio Scavazza. 'Using presets developed by Mario Di Cola from Audio Lab Systems, I can say without a doubt that I've never heard a VerTec system sound this good.
'As well as a marked improvement in the sound quality, the power consumption has been dramatically reduced,' he adds. 'This means fewer cables and smaller power boxes, however I have worked with Sonique on some permanent installations where reduced electricity bills are a lot more noticeable and appreciated.'
More: www.powersoft-audio.com