Cadac has appointed Lift Distribution to handle its production console range for the pro audio retail, install and hire markets in the US, joining Broadway sound specialist, RF Pro.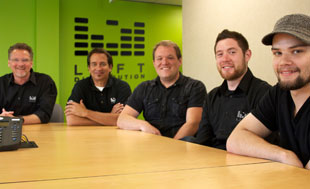 While RF Pro's Tom Bensen remains responsible for the sale of bespoke console systems into the musical theatre, and large scale sound touring and event sectors, the recruitment of Seattle-based Lift Distribution will bring Cadac to market via a general trade distributor, addressing the wider pro audio market.
'Good independent audio distributors in the US are hard to come by, and Lift Distribution represented a unique opportunity in that they are owner operators, widely experienced in the audio engineering sector, and not already carrying a console brand,' Cadac International Sales Manager, Ben Millson, explains. 'They are also distributors for KV2 Audio, a line I have personal experience with and I know how good it is; so there is a natural synergy with Cadac.
'With the team's extensive business and engineering background, and experience in live sound sector, they were very aware of Cadac's heritage and reputation,' he adds. 'We initially approached them to service a number of direct sales enquiries we had received for our new consoles. At the same time they took an S-Type, Live1 and CDC Four for evaluation and were suitably impressed.'
Lift Distribution is a relatively new venture, specialising in the distribution and installation of broadcast and live performance technology. The company was founded in September 2011 by joint MDs Steve Palermo and Dave Christenson – Palermo is founder and owner of Lift AV, a Pacific Northwest dealer and systems design/install company, while Christenson is founder of Audio Agent and 3dB Creative, a pro audio sales and marketing agency. Christenson has previously held senior management positions at Loud Technologies, Solid State Logic and Euphonix.
Lift's distribution centre provides Cadac with full sales, warehousing, service and back office support across the US.
'The sound quality of Cadac consoles is legendary,' says Christenson. 'The brand is an important part of the British large-format console legacy and continues to represent the highest quality and value in the industry. Given the initial demand we're seeing for the affordable Live1 Series in particular, it's clear that Cadac has successfully evolved to meet the needs of today's market. We're extremely pleased to be associated with them.'