The latest company to adopt Lab.gruppen PLM Series amplifiers is Germany rental company, Prolite Event, expanding its existing amplifier racks with Lab.gruppen PLM20000Q-SP racks.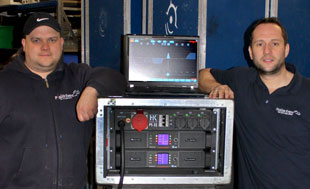 'Prolite Event GmbH has been working for many years with Lab.gruppen amplifiers,' says Frank Pfister, CEO of the Balingen-based operation. 'Before we made the decision to invest into the Lab.gruppen PLM platform, we tested some comparable amplifiers. We were impressed that in spite of the compact design, a high output is available and through the Lake Controller, we see another advantage. The high sound quality, the references, as well as the compatibility with our existing power amplifier components were also significant points that convinced us.'
Prolite Event GbH offers a wide range of services, from stand construction and installation to the rental and sale of event technology. With a new stock of Lab.gruppen PLM Series amplifiers, Pfister believes that his company in a stronger position to meet customers' requests.