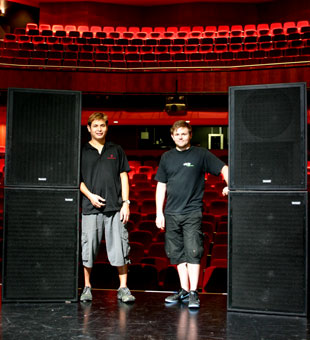 The Dubai Community Theatre & Arts Centre has installed a Tannoy VQ Series loudspeaker system to serve the array of international and local theatre, dance, comedy and music, as well as TV shoots and exhibitionits hosted in its main theatre.
The auditorium is a tiered two-level space with a capacity of 543, including four VIP boxes, and is now served by a pair of VQNet 60 cabinets. 'The Tannoy VQ system we have installed has really surprised me,' says the facilitiy's Technical Manager, Craig Burgess. 'I'm impressed with the system's response and compact design. Having VQ in our theatre gives us real flexibility and reliability to cope with the diverse range of shows we tend to have here.
'The VQ system proves itself in many applications such as dance, classical, large scale West End shows to conferences. The active system gives us full control through the networked cabinets, from which we can monitor the processers from our control room. The system gives great coverage and throw over the auditorium including the balcony and boxes. To sum up, Tannoy's VQ gives big impact, ease of use and controlled coverage with headroom to play with. Our clients love it…'
VQ's high sensitivity means high SPL can be achieved with a modest amount of amplifier power, and when coupled with the highly directional, controlled dispersion characteristics (courtesy of the prorietary Point Source Waveguide), it's significant that a single pair of VQNet 60 devices are sufficient for the front-of-house coverage, with fills required only for the upper half of the balcony. Two Tannoy VNet 218DR direct radiating subwoofer enclosures provide more than adequate low-frequency reinforcement.
The new system has been put through its paces already, with high-profile shows including a local production of crowd-pleasing hits – Fame and Hairspray, the latter of which including cast members from the original West End production.
Located within the Mall of the Emirates, Dubai Community Theatre & Arts Centre is the first modern, non-profit, cross-community creative centre in the Gulf region, built to international specifications. The brainchild of local theatre-lovers and business people who recognised the need for an entertainment and educational centre for the community and future generations of Dubai, the facility opened in late 2006.
More: www.ductac.org
More: www.tannoy.com