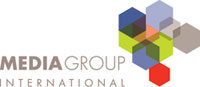 Gulf broadcast and communications systems integrator Salam Media Cast is to rebrand as Media Group International. The company serves TV channels and networks across the region, and includes Avid Technology, Sennheiser, Studer, Sony, Soundcraft and Wholer among its manufacturer lines.
Under the direction of existing CEO Paul Hennessy, t Media Group International will continue to operate from its regional Doha base and offices in the UAE, Oman, Bahrain, Saudi Arabia and London (for its Europe operations).
'Our name change to Media Group International reflects the company's ambition to stay relevant for our customers internationally, offering exciting IT, telecommunications and broadcast access more widely throughout Europe, Middle East and Africa,' says Hennessey. 'We have enjoyed successful growth in the past 35 years to become the leading company in the Middle East, and we plan to continue our geographical expansion to further build up our business capability.
'We are dealing more and more with Broadcast Media companies who are becoming international providers by utilising the IT and Telco Networks to deliver content. Recently we have signed a number of agreements that will help extend our capabilities to deliver full turnkey solutions to our customers. Broadcasters will benefit from this as they can easily manage one supplier dedicated to making their business successful.'
Media Group International will exhibit under its new name for the first time at Cabsat 2013.