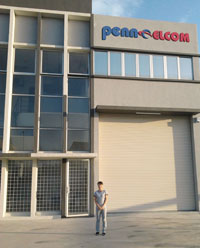 UK-based flightcase and speaker cabinet manufacturer Penn Elcom has extended its operations in Asia with a new sales and distribution hub in Kuala Lumpur, Malaysia.
Reflecting 'generally buoyant markets and strong trading in Asia over the past 12 months', as well as supporting Penn's planned medium-term global expansion, the new centre will enable local sales support (primarily in Malaysia, Singapore and Thailand) for the full range of Penn Elcom products. The facility provides both clients and end-users with direct shipments and more efficient support.
The operation is headed by Jane Li, who has worked for some time as Operations Manager for Penn's Logistics & Quality assurance centre in Xaimen, China. She will initially run a full time staff of three people. The initiative makes Penn Elcom the only hardware and component manufacturer in the region to offer such a comprehensive range of these types of products from stock.
'This effectively streamlines our entire operation servicing this part of Asia and the surrounding areas,' says Penn Elcom CEO, Phil Stratford.
Penn Elcom's Chinese manufacturing operation was launched in 2005. The company was among the first in the entertainment industry to underline the potential for high end, quality-engineered production in China delivering all the standards of excellence for which the brand is famous.
Penn Elcom has also recently expanded its 19-inch rack production capacity in China.
More: www.penn-elcom.com