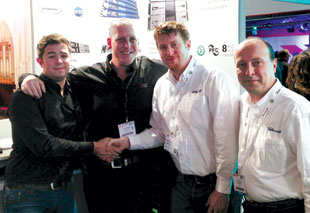 Powersoft has appointed iLED as its exclusive distributor for South Africa.
Having built a strong presence in the custom install and home integration markets, the Johannesburg-based distribution company recruited industry veteran Justin Mamulis to lead it into the pro audio sector. iLED is positioning itself at the high end of the market with Italian company Powersoft and UK-based Traction Sound joining its established portfolio.
'We are extremely excited about this new partnership' says Sales Director Mamulis. 'Powersoft's commitment to making the world's best amplifiers even better is but just one of the reasons we chose the Italian company as our premium amplifier partner.'
'We are very happy to welcome iLED to our growing team of international partners,' adds Powersoft EMEA Sales Manager, Steve Smith. 'While the Pro-Audio market is new for iLED as a company, they have an experienced team with an abundance of drive, passion, focus and vision and I can see a lot of potential.'
iLED plans to start working immediately with product demonstrations and technical training through its 'iLED University' programme.