Sennheiser UK and Buckinghamshire New University have announced a partnership intended to 'bring many new opportunities to the audio professionals of tomorrow'.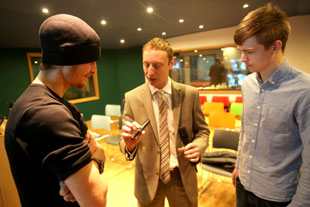 Sennheiser UK has worked closely with the university on an informal basis for the past eight years, providing education days, masterclasses, workshops and advice to dissertation students, but the new venture takes their partnership further. Launched in January, the arrangement includes the University's main recording studio being renamed The Sennheiser Sound Lab, and the manufacturer furnishing it with a range of equipment, including digital microphones.
A key element is the sponsorship of an annual scholarship for a second-year student studying BA (Hons) Audio and Music Production. Starting from September 2013, the scholarship is worth £3,000 and will include Sennheiser and Neumann equipment to aid the selected student's studies, boosting their prospects of a career in the audio industry.
In addition, Sennheiser is providing two six-month student internships. After a rigorous selection process, third year BA (Hons) Music Management students Jamie Leeming and Gemma Robinson have already taken up roles at Sennheiser UK's HQ, working as marketing executive and consumer channel executive respectively.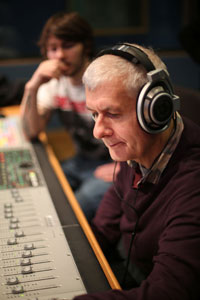 'The interviews are a challenge, but this opportunity allows us to get into the industry before we have even finished university, which is something I think every student strives for,' says Leeming.
'It is really hard to get into the industry and doing the internship through university is really helpful,' adds Robinson. 'Sennheiser is such a good company to be associated with and we are learning so much from experienced staff, networking and hands-on experience.'
For the students unable to secure a position, Sennheiser UK will provide 'industry insider' days in either live or broadcast for the second-year BA (Hons) Audio and Music Production student with the best academic performance in the previous year. The company will also be working with current students, staff and alumni to develop a wide range of online media assets.
'Students have increasingly heightened expectations, so universities need to be at the cutting edge,' says Sennheiser UK Marketing Projects Manager, Phil Cummings. 'Having access to equipment of the standard provided by Sennheiser, as well as the expertise of the company's staff, is fundamental to what we can offer and helps to put our students ahead of the game when they graduate,' adds Professor Ruth Farwell, vice chancellor of Bucks New University. 'This partnership is very good for the university and we hope that Sennheiser will likewise benefit. We would like to thank them for their support and are very excited about the possibilities that the new, formalised relationship offers.'
'Sennheiser is one of the largest microphone, headphone and in-ear monitoring manufacturers in the world, so this is a hugely exciting development,' says Frazer Mackenzie, the University's Head of the School of Applied Production & New Media. 'We've worked with the company for a number of years and this new agreement will bring a wide range of benefits to both the University and our students.'
Speaking at the launch, Sennheiser UK GM Phil Massey said: 'A relationship with an establishment like Bucks New University gives us the opportunity to develop our future. It's a very small industry and developing young people is essential to not losing the skills our industry specialises in. It's a great opportunity for us to help students develop and hopefully take the Sennheiser brand name forward into the future. This is more like a marriage then a partnership, to be honest'
More: www.sennheiser.co.uk