A US$136m redevelopment has seen the Hamer Hall at Melbourne's Arts Centre reopen its with one of the Southern Hemisphere's largest and most sophisticated Meyer Sound systems. The two-year project fulfills the 2,464-seat hall's sound system design as well as its acoustical requirements.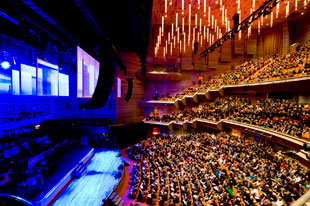 The hall is equipped with 147 self-powered CAL column array loudspeaker operating in three modes tailored to different acoustic and amplified events. In some applications, CAL's beam-splitting capabilities can be used to cover the main audience and balcony seating while minimising reflection from the balcony wall. Two CAL 64 column array loudspeakers are positioned to avoid exciting reflective surfaces. The slender columns handle both emergency voice alerts and any speech applications with orchestral concerts, such as narration or comments from the conductor.
'We also have small Meyer Sound Mina arrays tucked away behind grilles for use with some amplified events,' says facility Operations Manager for Sound, Nick Carroll. 'For orchestral concerts, the Minas are not used and a solid wooden door slides in front of them. The adjoining CALs then cover the stalls and many of the upper seats without hitting the balcony front.'
The CAL systems can be operated in either of two modes. For limited voice announcement and voice alert, the CAL beams have a 30° spread and are aimed 12° up. When used with the drop-down centre cluster for conductor comments or narration, the CAL loudspeakers have a 15° spread aimed 1° down. These modes are activated through presets in the hall's extensive control and distribution system based on the D-Mitri digital audio platform.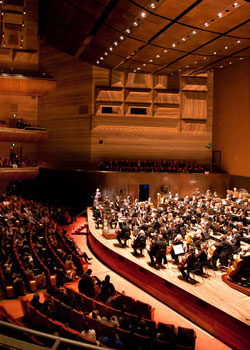 'We have used CAL for a number of performances, and we are tremendously pleased with the performance,' says Carroll. 'The frequency and phase response are extremely flat, and the level difference between the front and the rear of the stalls is minimal to the point of amazement.'
While the CAL loudspeakers are always available, the set-up for amplified pop and rock events remains stowed above the louvered stage ceiling and drops down only when needed. The main system comprises left and right flown arrays of nine Milo line array loudspeakers and one 700-HP subwoofer; a centre cluster of eight Mina line array loudspeakers; and four balcony delays each with six M'elodie line array loudspeakers and a single 500-HP subwoofer. Five M'elodie loudspeakers and two 700-HP subwoofers supply wide-stall coverage for each side.
For modest music amplification with the main arrays stowed, the six Mina loudspeakers and one 700-HP hidden in each lower niche are augmented by four Mina loudspeakers in the upper niches on each side. Rounding out the system are 20 UPM-1P and two UPM-2P loudspeakers under the balcony and circle; and three front fill systems to accommodate stage extension and event modes: 15 MM-4 loudspeakers in 'pit down' mode, eight UP-4XP 48 V loudspeakers in acoustic mode, and eight M1D line array loudspeakers in full concert mode. The entire system is driven using the D-Mitri digital audio platform with 12 processing and I/O units, offering a total of 102 outputs. FOH and monitor consoles are DiGiCo SD7 with dual engines to run in mirror mode.
In addition to concerts by the Melbourne Symphony and Australian Chamber Orchestra, Hamer Hall has been booked for shows ranging from the Cape Town Opera to Rufus Wainwright and Legendary Count Basie Orchestra.
Lead sound system consultant for the Hamer Hall project was John Alekna of Marshall Day Acoustics. The in-house team participating in system design included, in addition to Carroll, Frank Ward, Peter Ripon, Simon Austin, David Harvey, and Chris King, with additional contributions by Meyer Sound Design Services. The system was commissioned by Bob McCarthy with assistance from Chris Braun.
Principal architect for the Hamer Hall redevelopment was Ian McDougall of Ashton Raggatt McDougall Architects, and the builder was Baulderstone.
More: www.meyersound.com