Martin Audio has created a dedicated web portal for its MLA loudspeaker technology, in order to broaden understanding of the operation of its advanced control with users and potential customers.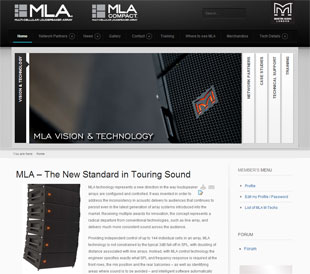 Set up as two hierarchical modules, the Public portal is live and available to any visitor, while the Private portal is confined to MLA rental companies and trained technicians, allowing them to access more in-depth information and engage in discussion forums. This is scheduled to go live in the near future.
Running alongside is a new personal Certified Training Programme. Complementing the online resource, the programme allows technical information to be hosted alongside an open forum. This gives MLA technical users the opportunity to share knowledge and experience, both with each other and Martin Audio's design and support teams across the world.
Through the MLA portal, owners and operators can also be actively engaged in the on-going certification of new engineers in a unique collaboration that links formal factory led training with real world experience. The aim is to enable users to achieve greater control, consistency of operation. Topics range from how to achieve coverage uniformity (and conversely notch out areas where sound is to be avoided), the advantages of being able to banish delay towers and how commercial benefits can be achieved for greater tour profit. It will prove beyond doubt that by employing the MLA principle, guesswork no longer plays a part in the control equation.
These guiding principles are appropriate to all applications – whether MLA is used in concert touring, one-off events, festivals or large and medium scale permanent installations in clubs and live venues.
'With the network of MLA and MLA Compact users growing so rapidly, it was essential that we developed this type of forum where technicians could exchange ideas and experiences,' says Martin Audio MD, Anthony Taylor. 'At the same time we are pleased to welcome into the community potential customers who have heard so much about this ground-breaking system and want to learn more.'
More: www.martin-audio.com