While controversial comedian Frankie Boyle keeps his audince laughing, his FOH sound is no joking matter to engineer Steve Pattison. 'Comedy shows are all about intelligibility – the joke's not funny if you can't follow what's being said,' he explains. 'Comedians tend to have erratic mic technique, moving the mic around a lot, often holding it down away from their mouth and suddenly shouting with the mic up close.'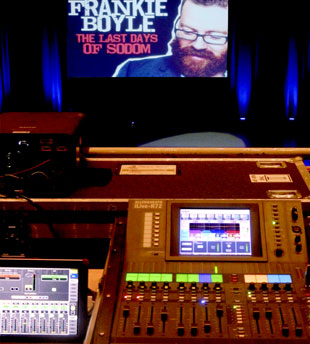 His choice of mixing desk is an iDR-48 MixRack with rackmount iLive-R72 Control Surface, chosen for its very small footprint. Recent gigs have also provided him with the ooportunity to road test the new dynamic EQ and multi-band compressor features from iLive's recent v1.9 firmware update.
'The tour gave me a great opportunity to use iLive's new dynamic EQ and multi-band compression,' he says. 'iLive's dynamic EQ is a wonderful tool for shaping a vocal and compensating for the varying dynamics and tonal differences that a comedian will throw at you – a Glaswegian impersonating a German shouting into a mic isn't always the easiest thing to understand.
'The multi-band compression also came into play as PA systems often emphasise certain tonalities as levels change getting harsher or muddier depending on the dynamics of the performer. Taming this meant the top balcony laughed just as much as I did.
'For me, the iLive-R72 is essential for theatres shows where FOH space is at a premium, as it is so compact but offers all the functionality and quality of much larger desks,' he adds.
Most of the tour venues were large theatres featuring multi-tiered balconies where there are many facets to the PA system, such as main hangs, monitors, delays, out fill, in fill, under hangs and front fill: 'In multi-level venues it can be a real pain (not just for your legs) when you need to check on all areas and make changes to EQ, levels and delays,' Pattison says. 'iLive's MixPad app earns its keep here, allowing myself or an assistant to adjust settings in real time without having to return to FOH. It's really handy during the show where an assistant can check on balconies or fills and tweak them while I still have control at FOH.
'Thanks to Steve's feedback from the Frankie Boyle tour, Allen & Heath's R&D department is now working on some de-F'ing algorithms,' an A&H spokesperson comments.
More: www.allen-heath.com