With a technical infrastructure worthy of a professional West End theatre, Eton College staged Macbeth for an audience that included some of Britain's theatrical elite.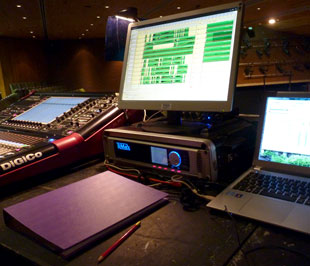 Act One's battle scene was a furious beyond the modest army actually present on the stage, relying heavily on including Out Boards' TiMax2 SoundHub audio show control system (in use for for a second year) and a new DiGiCo SD9 console to bring the sounds of battle into play.
A challenging modern-classical 'suits and swords' interpretation of Shakespeare's infamous tragedy, sound designer Rick Sarson devised an immersive sound environment and programmed the TiMax2 SoundHub in rehearsal for the student technical team to operate during the performances.
TiMax made use of the distributed loudspeaker system to paint a multi-layered soundscape that pulled the audience into the action, amid sounds of modern warfare. This effect was then swept into smaller speakers hidden upstage, with the help of the animated source-orientated reinforcement localisation provided by the TiMax2 SoundHub dynamic delay-matrix. The next lines – delivered by a young actor – were free of the battle raged in the distance outside.
TiMax delivered other notable moments throughout the production, not least during the entrances of Banquo's ghost: 'The chilling whispering that became inescapable in the auditorium, the sickening shock of the arrival of Banquo's ghost, and the terrifying sense of being immersed in modern battle were palpable,' says Eton Director of Drama, Hailz-Emily Osborne. 'The way the TiMax is able to link together the speakers so that a complete soundfield is created through which sound seems to fly is fantastic – I cannot believe that such a sophisticated soundscape could be operated so simply by the boy crew. A click of the mouse and the sounds moved and transmuted, bloomed and waned, and gave a profound sense of immersion in the evil atmosphere of the play.'
'The soundscape for Eton's production was simply stunning,' she concludes. 'Not only boys and parents commented on the effects that filled the auditorium, but industry professionals have also written to say that the sound was a powerfully expressive part of the production's undoubted success.