Nexo has hosted the first public listening sessions for its new STM modular line array, inviting rental companies from Europe and the Far East to LH2 Studios in London to look behind Nexo's Scale Through Modularity concept.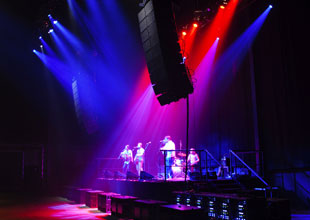 LH2's huge production rehearsal studio regularly hosts artists including the Rolling Stones and Robbie Williams, and it was here that Nexo and its first UK rental customer Capital Sound Hire set up the STM modular line array in a nine-per-side configuration – nine M46 main plus nine B112 bass cabinets left and right, with 16 S118 subs on the ground equally spaced across the front of the stage.
STM's modular design means there is no such thing as a 'typical system'. Instead, Nexo suggests a ratio of 1:1:1 (one M46 main, one B112 bass and one S118 sub) as a starting point for configuration, and the array length of nine suited the 40m studio. One of the most impressive demos was the STM groundstack, which features just two of each of the main, bass and sub cabinets.
Over the course of four days, STM Sessions were hosted by Nexo Concert Sound Manager, Stuart Kerrison, accompanied by workshops on Nexo's proprietary design software NS-1, and amplification and system management solution, NUAR. Visitors were able to see STM in close-up – R&D engineers Francois Deffarges, Matthias Larrieu and Eric Ecosse opened up the cabinets for inspection, so that visitors could get a detailed look at drivers and other components, notably the rigging system that is a hallmark of the STM concept.
A full team of design and tech support engineers from Nexo – including Joseph Carcopino, Julien Dorel, David Hochstenbach, Nicholas Poitrenaud and Val Gilbert – were in attendance to explain the finer points of system design software, and digital networking on both the EtherSound and Dante platforms.
On the hospitality front, a rolling catering service from Eat to the Beat kept visitors and Nexo crew well fed and watered, and the final night was rounded off with performances from beat poet Malcolm Bennett and indie-folk band AHAB. The band's engineer, Gareth Williams, was only man to mix live music on the system all week – is a legendary monitor engineer but took to STM anyway: 'I don't want to give it back…'
See also:
Nexo STM System
More: www.nexo.fr