Live German TV show Wetten, dass...? (Let's bet that …) calls on contestants' senses to solve problems – children guess the name of the cow by the taste of its fresh milk while a bodybuilder identifies massage oils by their sound and consistency and a musician creates sounds at the necks of bottles to determine the weight of their contents. But for audience members with a visual impairment, 'audio description' is the key. For this show, was delivered by Audio2 and a Lawo crystal console.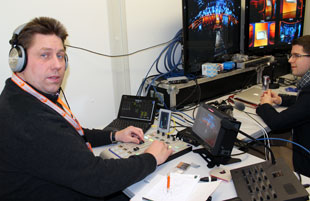 Audio description used to help blind or visually impaired people to better understand visual processes –commentators trained in individual sessions and familiar with theoretical knowledge, describe on any ongoing action. Since the idea of audio description is essentially to replace what would usually be seen, the primary task is the conversion of all images into vivid headlines. Much more difficult for the commentator is the expression of atmosphere without adding personal emotion and opinion – this is the main difference between this and a radio commentary.
To prepare for Wetten, dass...?, the commentators analysed previous shows, took part in training sessions and attended rehearsals for the show. Extensive preparation was also made with regard to the audience members. 'In sports, the audio description is most commonly mixed exclusively with the atmo. For an entertainment show, however, the audio description has to be embedded carefully and delicately into the show in such a way that the listener doesn't realise a thing,' says Michael Kastelic, CEO of Datamatix Datensysteme, the parent company of Audio2.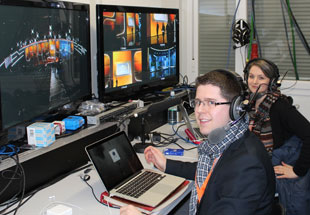 Audio2 has been responsible for creating the audio description for matches in the First Austrian Football League and other sports events for the past three years. Now, the company has taken on the Saturday evening show, Wetten, dass ...? – its first live-audio description on German television. Broadcast from the Baden-Arena in Offenburg, the operation is centred on a container located next to an OB van operated by national public broadcaster ZDF, who was responsible for the international broadcast.
This container was treated with acoustic absorbers in order to improve sound quality. For a show of this size and cost, Audio2 employed very high-quality equipment for everything from microphones to the loudness meter and mixing console – a Lawo crystal. 'The demands on the technology and everyone working on this project were extremely high, so we really appreciate all the positive feedback we received! It shows us that we did a good job,' explains Kastelic. 'Lawo provides systems with a high degree of flexibility that allows us to employ them in the best possible way in this sort of project. The other very important factor for us was Lawo's quick and reliable support.'
The crystal console was chosen for its compact size and modular fader unit: 'After a comprehensive market analysis, it became clear to us that Lawo's crystal console would be the most flexible and powerful solution. It also beat all its competitors in terms of cost-effectiveness. The basic unit can be extended easily, either with Madi or SDI-embedders, and allows us to use it in all types of setting, from football arenas to theatre productions and even TV shows.'
More: www.lawo.de