Two days of listening sessions awaited a party of visitors from some of the best-known rental companies in the Nederlands, Belgium and Germany when they arrived at Outline's Italian HQ.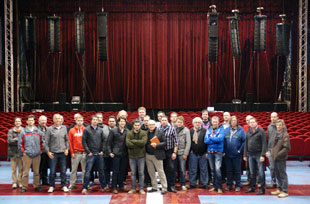 The aim of the meeting wasn't only to demonstrate the systems, however, it was also to allow the delegates into the heart of Outline's philosophy. Here they met people who have lived and breathed sound reinforcement for the past 40 years – Outline's its technical staff.
The visit was organised by The Audio Specialists, and the location chosen for the demonstration was the PalaBrescia, multi-function theatre (50m x 36.8m) just a few minutes' drive from Outline, where, at a height of approximately 7m, all the line-source systems manufactured by the company (with the exception of the GTO) were installed: Eidos 265, Mini-Compass Mantas and Butterfly.
'We were able to have a close look at all the systems, but also the component parts that ensure the unmistakable Outline Sound,' says Axel Nagtegaal, CEO of The Audio Specialists. These included the waveguides and the technology behind them – very impressive.
The 15 rental company reps were shown around the cabinet production centre, just a few hundred yards from Outline's main premises, where a new CN machining centre, manufactured by a historical (Italian) company was recently installed. 'The introduction of this machine ensures us a higher level of automation and absolute precision,' Outline's Stefano Noselli comments. 'Thanks to our long experience in manufacturing all kinds of cabinets, we have updated above all the work processes, ensuring even greater efficiency. The objective was to improve our productive capacity and, in expert hands, this machine will give us the results we require.'
Following the listening sessions, the visitors previewed the company's future development plans and participate in a Q&A session on Outline's proprietary iMode technology and 3D Open array acoustic modelling software.
'I cannot stress enough how important demonstrations are to our company's future,' says Chris Hinds, Outline EMEA Sales Director. 'Words alone do not sell systems, it is only when customers are put in front of our products that they truly appreciate what Outline has to offer. We operate in a competitive sector of the market where demonstrations and knowing the faces behind the brand can make a difference – The sales generated by The Audio Specialists after our recent event reinforce this point. I'm looking forward to the next one.'
More: www.outline.it