Renowned for delivering results at every event it takes on, Australin touring production company Monitor City (MC) MC was established in 2006 by live sound engineers and production managers Matt Dufty and Ade Barnard, who met while touring with Australia's Pete Murray.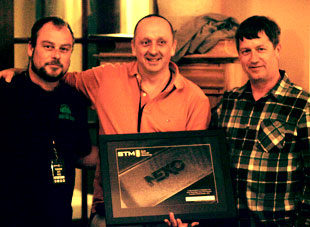 The philosophy behind the venture simple – use their expertise in monitoring and touring for live production alongside the highest quality audio equipment to deliver impeccable results consistently. Their formula proved a success very quickly and saw MC expand into an end-to-end touring production company with an inventory of leading brands such as Nexo and DiGiCo and support from local distributor, Group Technologies.
Adding to an already extensive Nexo inventory – which includes Geo-S12, RS18s and 45N12 Wedges, – the Melbourne-based operation has become the first Australian Nexo STM partner, bringing Nexo's flagship scalable modular line array to the Australian touring and live production scenes.
'I had toured Alpha for many years. I was a big fan and familiar with the Alpha sound,' Duffy says. 'STM seemed to be a similar PA but would throw a lot further and be very flexible for our purposes. The scale of each gig tends to vary a lot so the modular concept fits really well'.
Bernard was also taken by the scalability of the system: ' It's all about the modularity. We only wanted to buy one PA so we need it to do everything well and that's exactly what STM is.'
STM is able to provide anything from a groundstack to a four-wide arena hang from a combination of three core modules – the M46 main module, the B112 Bass module and the S118 sub module. There is also a full range STM omni module in the final stages of production testing which will add further versatility, as well as of new configuration options.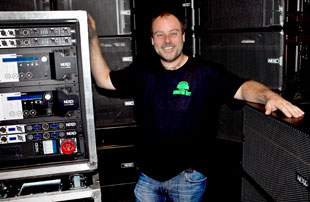 Nexo's position as a high-end brand and reputation for innovation also enticed MC's decision further. The completely new take on rigging makes STM a highly lucrative option for production companies as Dufty quickly realised: 'Although there are other brands in the high-end category, the rigging concept and well-thought-out system concept sparked our interest in the product even before hearing it. Once we heard it, we knew we made a great choice – it was loud and clear, with studio-like detail.'
Bernard found that STM was also cleverly designed for transport: 'It's a fantastic rigging system that is very fast to fly and take down. Everything from the stacking to the dolly boards and the system dimensions means it packages up neatly and fits in the truck really well.'
After acquiring an initial 36-box system of 18 M46 main units, 18 B112 bass units and six NUAR intelligent amplifier/controllers, MC was quick to take the PA out on tour with Angus Stone. In practice, touring with STM proved to be everything they had hoped: 'Its fast to rig and flexible to use. It's very high power so headroom is never an issue. We've both found that the NS-1 simulation/prediction software is very accurate and easy to use too. We just love it.'
With the likes of Capital Sound, Sound Linear, Acoustic Network, Mubari and MC becoming early adopters of STM, the concept is gaining a reputation as a PA that can deliver both sound quality purity and practicality demanded by a highly-competitive production industry.