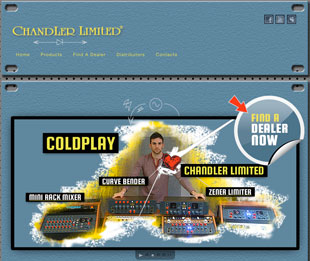 Designed to be 'informative, easy to navigate, visually compelling and geared toward helping site visitors find the information they seek', its new website is designed to be a reflection of Chandler Limited's commitment to 'enhancing all aspects of the customer experience'.
Recognising the limitations of static images, the new site incorporates videos for the company's signal processing and related equipment. There is also news of well-known artists and producers who use Chandler Limited products – Adele's Grammy-winning Set Fire to Tthe Rain was mixed through the company's Mini Mixer while her single 'Rolling in the Deep' was mixed through the Curve Bender. These inclusions are intended to help customers get a clear idea as to how the company's various products may benefit their own musical endeavours.
'The ability to access information quickly and easily is a key attribute of our new website,' says Chandler Limited owner and chief product designer, Wade Goeke. 'The site has been Google search engine optimised, enabling Chandler Limited to appear higher and more prominently in search queries, which we expect will help drive more traffic our way.
'Further, I genuinely believe the extensive use of video content will be a particularly useful feature for customers. Now, in addition to product shots, visitors can view material that shows how the product might be used in a particular application and, in the process, get a far more accurate "feel" for how that product might benefit their own projects. With a design that is more streamlined, better organised, and easier to navigate, I'm confident our customers will find themselves better positioned to make an informed purchase decision.'
More: www.chandlerlimited.com