Since the beginning of 2013, BMW has used Sennheiser Tourguide 2020-D systems for tours of its production plant in Dingolfing, Germany. The opportunity to look behind the scenes attracts up to 20,000 guests from around the world each year, for a 2.5-hour guided tour that covers a distance of up to 4km, where the Tourguide 2020-D ensures speech intelligibility even in noisy production environments.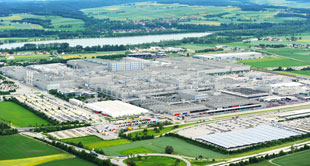 At the start of the tour, the visitors are given rugged EK 2020-D-II bodypack receivers with GP 03-M mono headphones, which are worn with an ear clip. These show volume settings (which can be adjusted to individual requirements), reception quality, battery status and receiving channel on a backlit LCD. Digital transmission ensures high-quality audio reception within a radius of 50m in enclosed spaces. A clip enables the EK 2020-D-II to be attached to visitors' shirts or belts, or to a neckband.
The production experts guiding the tours use Sennheiser's SKM 2020-D handheld transmitters, which have a dynamic capsule with a cardioid pick-up pattern for use in noisy surroundings. The rechargeable battery provides power for up to eight hours.
At the end of a tour, the receivers are placed in L 2021-40 charging units. These can each recharge 40 EK 2020-D-II receivers in less than 2.5 hours. The units also act as a docking station for setting the receivers' channels. Up to 125 charging units can be connected via Ethernet using the CC 2021 PC-based control software. This allows a maximum of 5,000 receivers to be set and checked centrally on a screen.
Tourguide 2020-D systems proved to be a success during their first trials at the BMW assembly plant in Dingolfing, providing a long range and high audio quality without noise interference. Their handling also met the requirements of a factory tour in every respect. As part of its standardisation measures, BMW Group plans to use Sennheiser Tourguide 2020-D-II systems at all of its European production plants.
At the BMW production plant in Dingolfing, up to 1,500 BMWs roll off the assembly line a day. More than 18,000 employees manufacture the BMW 5-Series, 6-Series and 7-Series models. Besides car manufacture, the plant accommodates the production of car parts and components, the central worldwide spare parts store and the bodyshell production for Rolls-Royce models.
Sennheiser equipment at Dingolfing plant:
EK 2020-D-II receivers (150)
SKM 2020-D microphones (7)
GP 03-M mono headphones with ear clip (200)
L 2021-40 charging units (4)
Sennheiser equipment at European plants:
1,430 x EK 2020-D-II receivers (1,430)
SKM 2020-D microphones (60)
GP 03-M mono headphones with ear clip (1,900)
L 2021-40 charging units (39)
More: www.sennheiser.com