Calrec has secured its first Turkish sale, with the placement of an Omega digital broadcast console with HD Protek.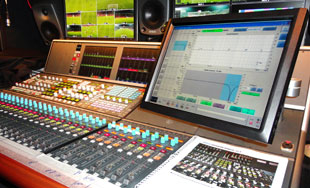 Turkey's largest independent OB company, Istanbul-based HD Protek has installed the Omega in a new OB truck, where it serves as both the audio mixing console and audio router for live sports event coverage.
'When we decided to build a third OB unit, we designed one that was better suited than our other two trucks to accommodate customers that don't require a complex production set-up,' says HD Protek General Manager, Yucel Ozacar.
'The Omega provides exactly the right combination of I/O density and functionality for our customers, and no one could beat the price for the configuration we needed. Another deciding factor for us was Calrec's stellar reputation in the industry.
Installed in its new HDP03 truck, HD Protek has a 32-fader Omega console in a 40-fader chassis, to allow for future expansion. The vehicle became operational at the beginning of 2013 and mainly covers sports. Since that time, it has covered a number of live soccer games including some Turkish Cup matches.
Turkish systems integrator Teratek handled the sale along with installation and support: 'The Turkish market is a good expansion for Calrec, particularly since we're working with such a high-profile client as HD Protek,' says Calrec Middle East & Africa Sales Manager' Anthony Harrison. 'The service that Teratek provided in helping with the installation and integration will ensure that this first for Calrec will be a great success.'
More: www.teratek.com.tr
More: www.calrec.com