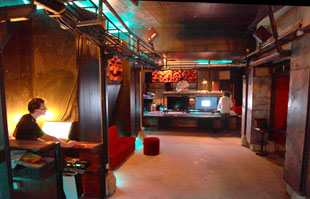 Hardly an obvious location for an alternative DJ club and music venue, Yunkunkun can be found in the Gemmayzé district of Beirut.
With ambitions to attract international artists, the club's owners required world-class in acoustics and installed equipment. The club is underground and in a heavily populated area, so it was as important for sound to be well contained and of the highest quality. To achieve this goal required significant investment in the structure as well as the interior design and layout.
Experienced in managing projects in the Middle East, the Rome-based VDM Group was called in to manage the infrastructure and equipment design. With equipment supplied by sister company VDM Distribution. As Merging Technologies' distributor in Italy, VDM reckoned that an Ovation system should be used control a complex speaker network in a number of zones. Ovation would alos mange the playlists and to do necessary mixing when no dedicated mixing console was being used.
Once the massive internal concrete shell had been constructed, the internal fitting included a large diffuser in the elevated bar area. Main stage speakers were d&b audiotechnik xS Series with 18S subwoofers and surrounds, with zone speakers in the separate bars and lounge areas from PSI Audio.
The Swiss theme was completed with a Merging Native Platinum Ovation Media Server and Sequencer.
'This has been a really exciting project for us because it is unusual to find such a commitment to quality in construction and sound,' says VDM Group Chairman and CEO, Igor Fiorini. 'Ovation is so well suited to this location where we need to control the whole club from a central point. It makes the job so easy.'
Yukunkun opened its doors in September 2012 and is attracting international DJs and performers, with a particular emphasis on electronic music. The focus on quality reproduction has proven to be fully justified with a lively following on Facebook.
More: www.merging.com